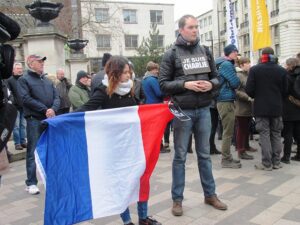 Liverpool in 2015 was – like every other year – a hub of captivating news and sport, with a huge range of stories for our reporters to cover.
At JMU Journalism, we have provided the latest from across Merseyside in the form of this website, our weekly newspaper, radio podcast and YouTube channel.
Here are the highlights from another big year in the city, as we look back at the past 12 months.
January began on a sombre note, with the world mourning those lost in the Charlie Hebdo killings in Paris, along with others in a shocking series of acts of terrorism.
Liverpool joined cities from across the world in remembrance, with hundreds turning out to show solidarity in the face of an attack against freedom of speech.
Paris was to suffer another, even more deadly and devastating night of terror later in the year, with 130 victims of multiple co-ordinated attacks in November. Liverpool took part in global memorial events, with a Lime Street vigil, and a minute's silence held at St George's Hall, following the raising of the French flag to half mast at the Town Hall.
It was a highly significant year politically, as May brought with it the UK General Election. With more support than had been expected, the Conservative Party managed to secure a surprising majority vote to form their own government.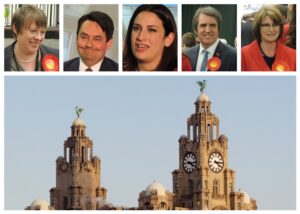 However, Liverpool bucked the national trend, with all five of its Labour MPs being re-elected. Of the 15 seats throughout Merseyside, only one – Southport (Liberal Democrat) – did not elect a Labour MP.
In the pre-election build-up, JMU Journalism offered an exclusive insight into what those in the city believed was the biggest issue of the General Election.
In local polls, Labour also strengthened its grip on Liverpool City Council, winning 29 of the 31 available seats; an increase of three to make it 81 of 90 overall. The party also retained Wirral Council with one gain, and won all the election wards in Knowsley.
In November, Government minsters and Liverpool city region leaders announced plans for a major transfer of powers from Whitehall to local control. The devolution deal will see the city region elect its first 'metro mayor', who will take on the new responsibilitites.
In December, Mayor Joe Anderson was appointed to lead the region's 'super cabinet', which sees him in a strong position to become Labour's candidate when 'metro mayor' elections are held in 2017.
There was controversy involving Top Gear co-presenter Jeremy Clarkson, with critical comments he made about the city in a Sunday Times column sparking a reaction from Scousers.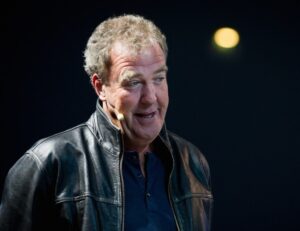 The Liverpool Echo was later criticised by Clarkson on Twitter for what he described as 'shocking' journalism. We canvassed the streets to ask the people what they thought of the incident.
In March, a month after the local storm, the BBC announced Clarkson's departure from one of its flagship shows after he verbally and physically attacked a Top Gear producer.
Closer to home and somewhat less controversially, another high-profile man lost his job this year as Liverpool sacked manager Brendan Rodgers following the side's disappointing start to the 2015/16 season. With the decision to axe the Northern Irishman coming relatively swiftly after a tame 1-1 draw in the Merseyside derby, we once again hit the streets to garner the local reaction.
After several days of speculation, former Borussia Dortmund manager Jurgen Klopp was appointed on a three-year deal. JMU Journalism was on hand to cover the charismatic German's first game at Anfield, as he looked to steer the Reds back on track in Europe.
The departure of Rodgers would not be the only notable one at LFC, however, with Kop legend Steven Gerrard also leaving in May. In a day Reds fans hoped would never come, the famous No.8 said goodbye to Anfield before a summer move to Major League Soccer side Los Angeles Galaxy.
Gerrard will forever be remembered as one of the club's all-time greats; leading the team to 10 trophies in 17 years, including the 2005 Champions League triumph in Istanbul. Despite the occasion, Crystal Palace soured the send-off, beating Liverpool 3-1 on Gerrard's last home appearance.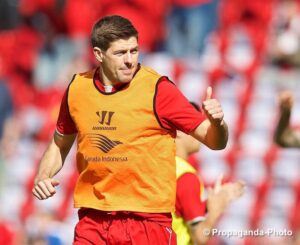 In other sporting news, 'Many Clouds' jockey Leighton Aspell secured back-to-back triumphs as he rode to victory in April's Grand National at Aintree.
Though Aspell and Many Clouds were 25-1 underdogs, they denied retiring jockey hero AP McCoy a fairytale win in his final appearance at the world's greatest steeplechase.
The city also lost two of its legendary figures, with former Everton manager Howard Kendall and showbiz star Cilla Black passing away. Both were given emotional funeral send-offs in Liverpool, with tributes also pouring in from far and wide. Black, who died from a stroke in August, was the UK's top-trending Google search term of 2015.
The Hillsborough inquests continued throughout the year, with the hearings in Warrington set to conclude in the early part of 2016, as jurors are expected to consider their verdicts in late February. The 26th Hillsborough memorial service was held at Anfield, and a plaque was unveiled at Goodison Park to remember the 96 fans who lost their lives in the 1989 disaster.
Merseyside Police saluted a fallen comrade, as around 2,000 mourners, including up to a thousand UK policemen and women, joined family and friends at the funeral of PC Dave Phillips at the Anglican Cathedral.
November saw Liverpool fall silent to pay respect to those lost in conflict fighting for our country. Coinciding with Remembrance Sunday was the unveiling of the famous 'Weeping Window' poppy display at St George's Hall.
The artwork was first showcased at the Tower of London in 2014, with the sea of red drawing millions of visitors. The poppies will remain in Liverpool until January 17th.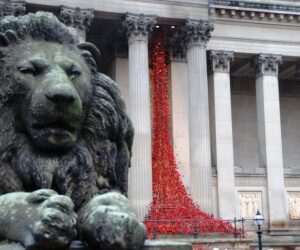 The year closed out with the city staying at the forefront of the art world, with a community regeneration scheme in Toxteth — named the Granby 4 Streets project — taking home the prestigious Turner Prize following a shock nomination for artists collective, Assemble.
For the 11th consecutive year, the city was awash with Santas, as the annual 5K charity dash returned. Though the numbers were strong, with 6,235 members of the public turning Father Christmas for the race, the crown of 'biggest Santa run' was lost to annual rivals Las Vegas.
Dressing up took many forms at JMU Journalism as the semester ended with the first ever Christmas Ball and our traditional festive jumpers charity newsdays, which helped us break our fundraising record for Macmillan Cancer Support.
JMU Journalism will continue to bring you the biggest news and sport stories from Liverpool when we return in 2016. Until then, we would like to wish all of our readers, listeners and viewers a Happy New Year!