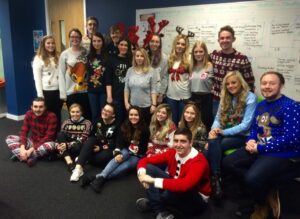 JMU Journalism was filled with festive cheer this week as students and staff joined forces to help raise a record sum for Macmillan Cancer Support after our annual 'Christmas Jumpers Newsdays'.
Seasonal clothing was worn while the serious business of newsgathering carried on as normal, albeit with a Christmas theme, as a series of money-making efforts helped the cancer charity at the same time.
Following on from last week's successful inaugural JMU Journalism Christmas Ball and a sponsored silence by second-year student Aaliyah Rugg, the fundraising continued at Redmonds on Monday and Tuesday.
Delicious baked treats and home-made cards went on sale, song requests were available at the right price to provide a soundtrack to the occasion, plus a 'guess how many sweets in the jar' game and even a sponsored leg-waxing.
All the pleasure and the pain proved worth it as we raised £1,031 overall, smashing last year's total of £285.
Recipient of the charity leg-wax, Leigh Kimmins, 21, said: "I wasn't that scared because I know it's for a good cause. I'm happy to help and I hope it raised a lot of money – I suit the hairless look anyway."
Second-year student Nathan Archer, 19, who organised the charity ball, said: "I'm really happy with how it went. It was a fantastic atmosphere and I was very humbled by all of the positive comments from fellow students. The amount we raised for the charity was brilliant, I know that all the money will be going to a good cause."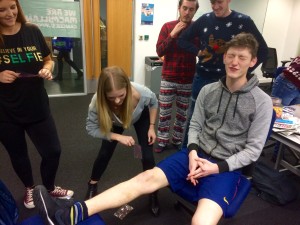 Responding to a series of tweets showing our efforts, Macmillan replied to JMU Journalism on Twitter, saying: "Thanks for all your support everyone! And for this lovely video! We couldn't do what we do without your help."
Approximately 2.5 million people are living with cancer in the UK today and experts say this number could rise to 4 million by 2030.
Macmillan believe no one should face cancer alone and want to offer their support to anyone who needs it as they fight the disease.
Anyone wishing to find out more or to donate to Macmillan Cancer Support can do so by visiting their website on www.macmillan.org.uk.
Photo galleries: click on a thumbnail to enlarge the images
JMU Journalism Christmas Ball 2015 slideshow
Facebook: Download photos from the 2015 JMU Journalism Christmas Ball >>