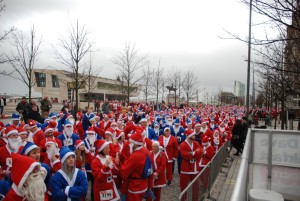 The city centre was a festive sea of red with a splash of blue on Sunday morning as around 7,000 people turned up to take part in BTR's 12th Liverpool Santa Dash.
The annual 5K charity race, sponsored by Medicash, beat Las Vegas to the world Santa challenge title last year, with 8,846 Father Christmas participants.
However, this time round there has been a dip in the number of runners in Liverpool and officials must now wait for the final figures before knowing who had this year's largest Santa Dash.
BTR spokeswoman Erica Dillon told JMU Journalism: "Las Vegas had their race yesterday, hosting around 8,000 participants. We have an estimated 7,000 running today, but we don't have any official figures yet. Sometimes we may not know the winners until tomorrow."
The event's five official charity partners this year are: Radio City's Cash For Kids; Claire House Children's Hospice; Everton in the Community; Jospice; and the Roy Castle Lung Cancer Foundation. The race was also open to other charity runners, with people of all ages, abilities and nationalities, and some Santas flying in just to participate for the day.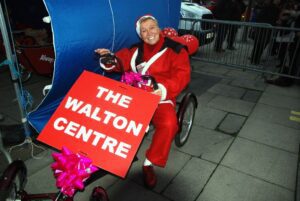 The fun run route started at the Pier Head and took participants through the heart of the city, ending outside the Town Hall where Christmas festivities and fake snow were on site for everyone to enjoy.
Although the weather took a turn of the worse with strong winds and rain, it didn't dampen spirits as people still joined in and got creative with their costumes. This year saw dressed-up dogs, Mexican Santas, a Lego Santa and even a cheeky topless Santa.
Celebrity hairdresser Herbert Howe took part in the race for the first time this year on a scooter. He told JMU Journalism: "I'm joining in the Christmas spirit – Liverpool has this great spirit and always has.
"I'm supporting the Walton Centre who look after the children of Liverpool and unfortunate people who may be victims of crime, as well as my mother's charity, Queenie's Christmas. It's the only Christmas charity in Great Britain and it belongs to Liverpool."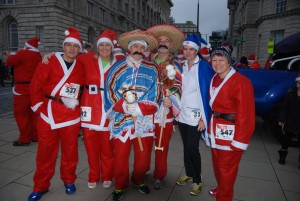 Liverpool's Lord Mayor Anthony Concepcion was also a distinguished guest. He told JMU Journalism: "It's my first time as Lord Mayor at the event and I think it's fantastic. The race is a real festive occasion in Liverpool.
"I'm delighted to be here. I have my own charities but today it's all about many charities raising money for good causes so I hope they all do well and raise a lot of money."
After thousands crossed the finish line, a 1K race followed along Dale Street for Liverpool's mini-Santas run for those aged 12 and under.
All runners in both races received a commemorative medal at the end of another day to remember.
Photo galleries by Rochelle Beighton. Click on a thumbnail to enlarge the images