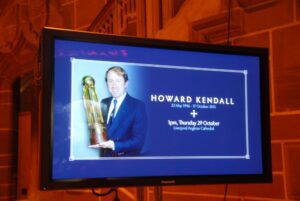 Friends, family, former players and Everton supporters paid their final tributes to club legend Howard Kendall today, with spontaneous applause breaking out among mourners as their beloved former boss arrived at Liverpool's Anglican Cathedral for his funeral.
The cortège had already performed a lap of Goodison Park to pay homage to Kendall after he bid farewell to admirers both Blue and Red when he died at the age of 69 earlier this month.
He is survived by his wife, Lil, two daughters, Hailey and Lisa, and son, Simon.
Inside the cathedral, they were joined by famous faces from the footballing world who had turned up to pay their respects, including Wayne Rooney, Jamie Carragher, Andy Gray and Sir Alex Ferguson, plus the current Everton squad and a host of the stars who were influenced by Kendall's career.
Outside the streets were packed with thousands of Evertonians who were mourning a man club chairman Bill Kenwright called "the greatest manager Everton have ever had".
The clapping continued as the coffin was carried into the service accompanied by Elton John's song 'I Guess That's Why They Call It The Blues', which marked the start of the funeral.
Those called to give orations spoke fondly of Kendall's grit, determination, desire, belief, and his true affinity to Everton FC, especially Peter Reid – the heart of the 80s team that won two league titles, the FA Cup and the European Cup Winners Cup.
Kenwright, in a poignant 10-minute toast, spoke of Kendall's genius and love for the team. He said: "For what he brought to us at that time was extraordinary."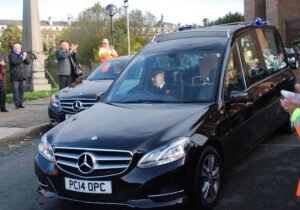 Billy Ingham, 88, one of the Blues' oldest fans, told JMU Journalism: "He practically made Everton years ago. I met him a few times, he was champion. He would always talk to you and he listened to what you had to say.
"He loved all the players and he gave us all such wonderful games to watch. He wasn't just a manager; he was one of the boys and that's why I thought the world of him."
Jean Healey, Everton shareholder and season ticket holder, told JMU Journalism: "He did such good for the club, he brought such fame and fortune. We saw lots of winning times, lots of cups… and he lived life to the full."
Kendall left the cathedral to the Blues anthem of Z-cars, with many crying as the hearse drove away.
He once described his relationship with Everton as like a marriage rather than an affair. Sadly now though, that is a marriage made in heaven.
Photo galleries by Leigh Kimmins. Click on a thumbnail to enlarge the images.