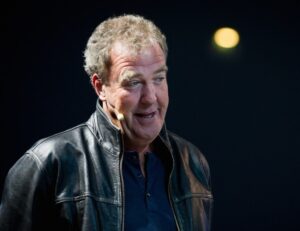 Outspoken TV presenter Jeremy Clarkson has become embroiled in a new controversy, this time over disparaging comments he has made about Liverpool.
The BBC's self-styled motormouth recently visited the city on Valentine's Day weekend with his colleagues from the hugely popular Top Gear programme, performing during its live spin-off show for two nights at the Echo Arena.
However, a negative review he wrote about his stay led to an instant backlash.
Responding to the criticism he received as a result of the Liverpool Echo website's story about his column in yesterday's Sunday Times, last night Clarkson tweeted to his 4.45m Twitter followers: "People of Liverpool. Read what I actually wrote. Including the bits the f•••tards on the local rag left out. Shocking journalism."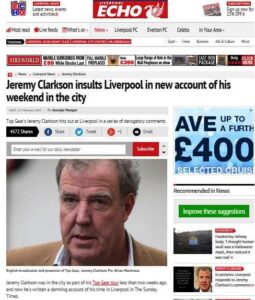 In the spirit of Top Gear, JMU Journalism accepted the ever-controversial Clarkson's challenge to Liverpudlians to absorb the whole review of his time on Merseyside before asking what they thought of his comments, good and bad.
The entire article, published under the headline: 'Phrasebook, tick. Local currency, tick. Tracksuit, tick. I'm off to the North', was duly read by a series of patient Scousers.
Finding people willing to take the time to digest the full 1,000-word piece was always likely to be difficult, but our reporters canvassed opinions in the city today for views on the 54-year-old Yorkshireman's thoughts. We asked respondents to respectfully refrain from using the same sort of language tweeted by Clarkson.
His Sunday Times review begins: "Over the years my trips to Liverpool have always been extremely memorable. On one occasion I found that the door to my hotel room was blocked by a girl who was lying in the corridor, having apparently died.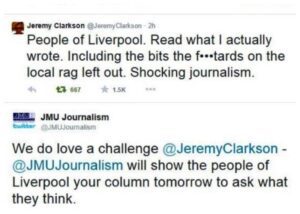 "On another the constant burglar alarms meant that I checked out of my hotel at 2am and drove back to London for a bit of peace and quiet. Oh, and I nearly forgot: there was the time a blood-soaked chap sprinted into the restaurant in which I was dining and ran amok with a knife.
"However, I went to Liverpool last weekend and it was all very agreeable. There was a lot of postmodern urban-chic architecture and many museums, hotels and waterfront cafes. It looked really good. I liked it.
"Yet behind the veneer of modern loft living there were one or two incidents that warrant a mention."
He goes on to describe a series of culinary misfortunes, including the challenges of ordering kippers at his unnamed hotel, eating a salad "like a docker's wet vest", plus the difficulties of being able to source a particular brand of wine and Tabasco sauce for his oysters whilst dining in town.
JMU Journalism Radio talks to Liverpudlians about Jeremy Clarkson's article
Elsewhere, he explains his philosophy about the current state of the North-South divide in the country, but Clarkson admits his views about the thoughts of locals may not be accurate, writing: "I don't know because I'm not Liverpudlian. But I am a northerner, and what I therefore know is this the north of England has never been more different from the south of England.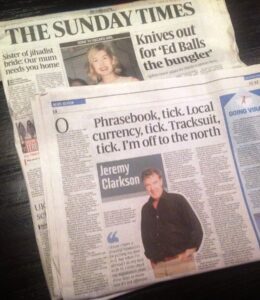 "People up there earn less, die more quickly, have fewer jobs and live in houses that are worth the square root of sod all."
Scroll through the comments below to read responses by more than 30 Scousers to Clarkson's article in JMU Journalism's exclusive survey.
While some clearly took offence at his words, others were of the view that his opinions should not be taken too seriously as that is the nature of his over-the-top persona, with several people highlighting that attracting more publicity is in his interest.
Related story: Read Jeremy Clarkson's full column in the Sunday Times (requires subscription) >>
Additional reporting by: Ruby Molyneux; Olivia Swayne Atherton; Matthew Judge; Emily Lewis; Josh Kelsall; Rebecca Cookson; Hannah Anderson; Laura Schumann; Megan Hill; Stevie Pickering & Kieran Etoria-King.