Excitement was in the air today as the semi-finals draw for the 10th annual JMU Journalism World Cup was revealed to eager participants, both old and new alike.
After three victories in a row for the outstanding but now-departed Class of 2018, the path to glory has been left clear for others to stake their claim as the tournament reaches its decade.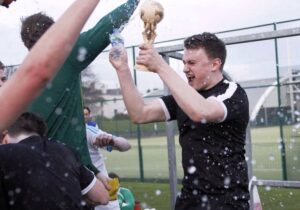 The draw produced an enticing lineup, with Level 3 meeting Level 2 and the evergreen Alumni side set to take on Level 1.
Level 2 were runners-up last spring after impressing many with their debut performances. Displaying his trademark confidence, captain Owen McKendry told JMU Journalism: "I wouldn't say we were nervous. There were some shocking decisions in the final last year and we were the better side.
"There's no pressure this year. We're still confident and I think we can definitely go one better."
Level 3 skipper, Ross Crane, said: "We have got the second years and I know they did well last time, but they'll have a tough game from us. We've been unlucky so far, but we should be feared this year."
First years' captain, Paddy Allen, believes the newcomers will not be overawed by the occasion and feels his most difficult task is narrowing down a huge squad of volunteers.
He said: "I've only seen a few of our lads play and they're pretty decent, so it's just a matter of sorting positions because everyone wants to play where they want. It's down to me to say no and upset a few people."
YouTube: Looking back at the first JMU Journalism World Cup (2010)
Chris Shaw's long reign as Alumni skipper is over "by mutual consent" after leading the graduates to four successive finals and one title, back in 2015.
Scapegoats were clearly required following the Alumni's record-breaking defeats in the past two seasons, although a career-ending injury has in any case forced Shaw's early retirement from the beautiful game.
The 30-year-old said: "It's with great sadness and not a little discomfort in my right knee that I step down from the proud position of the Alumni captaincy. I faithfully pass on the baton and will be optimistically cheering on a reinvigorated team, hopefully with fresher, younger, working legs in a defence pushed to its limits in recent years."
Shaw is replaced by fellow veteran, Gary 'Gaz Top' Maiden, who makes an emotional return to the role he was asked to relinquish following the inaugural event in 2010. Gaz Top said: "I'm buzzing to make a comeback. As a former unsuccessful captain, I'll strive to bring the glory year(s) back to a side very close to my heart."
JMU Journalism World Cup semi-finals 2019: Monday April 8
Level 2 v Level 3 (KO 3.15pm)
Alumni v Level 1  (KO 5.45pm)
Final to held on Thursday April 11 (KO TBC)
(All games to be played at LJMU IM Marsh Campus, Barkhill Road Aigburth)
JMU Journalism World Cup archive >>
YouTube: JMU Journalism World Cup Final 2018 interviews