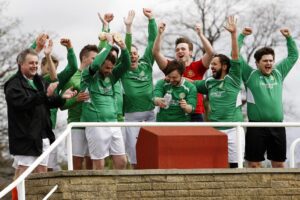 The Alumni ended their long wait to get their hands on the JMU Journalism World Cup after they beat Level 2 on penalties to secure their first title in the sixth edition of the the tournament.
The sides were locked at 2-2 at the end of normal time following an extraordinary late twist, with two goals in the closing minutes forcing a shoot-out as the second years scored with virtually the last kick of the game.
Twice runners-up, the Alumni thought they had victory secured when the Class of 2011's Stephen Dickinson swivelled in the box to make it 2-1 with the clock running down, but Nathan Burgess looped in an equaliser with his second strike to ensure yet another sensational climax to this eagerly-anticipated event.
In keeping with tradition, Alumni player-manager John Mathews and captain Chris Shaw missed their first two penalties, but the second years could not capitalise on a winning position as Leigh Kimmins then Adam Lawrance failed from the spot, followed by James Knowles in sudden-death as the shoot-out finished 5-4 in the graduates' favour.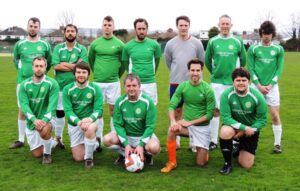 Level 2 were gifted an early lead after Nathan McCrae, making his Alumni debut, was caught in possession as he was perhaps intoxicated by the occasion – or the night before – and Burgess took full advantage when he chipped first year guest goalkeeper Tom Begbie for a stylish opener.
The match, played into the teeth of a howling cross-wind at LJMU IM Marsh, would not have drawn plaudits from the purists for its classy moments, but it more than made up for it by being contested in the true spirit of the occasion.
For the second years, the commitment was apparent throughout and they were unlucky when the Alumni Green Machine drew level just before the break.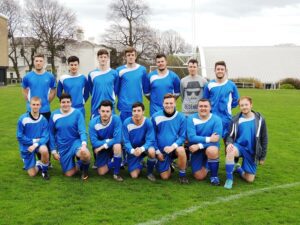 Level 2's Michael Henry attempted to clear his lines just outside the box but Gary Maiden's fortuitous, quiffy challenge saw the ball balloon up into into the gale and drift slowly over keeper Matty Toker's head into the corner of the net.
Kimmins, so lethal when the second years reached the final, came close when his glancing header passed just wide, but this was much more of a team performance by Steven Carson's side, who must have thought they were standing on the edge of glory during the penalty shoot-out following their exciting comeback.
Ultimately, however, the Alumni finished the job for once and came away from Aigburth champions at last.
Photo galleries by Craig Galloway. Click on a thumbnail to enlarge the images