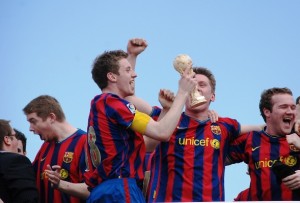 New champions will taste glory this year as the fifth annual JMU Journalism World Cup pits the second years against the Alumni, while Level 3 take on Level 1 following an intriguing semi-final draw today.
Last year's extraordinary final, which saw the departing third year students beat the Alumni on penalties after a thrilling 4-4 comeback draw, will live long in the memory.
While TV footage of that momentous occasion continues to be lost in the JMU Journalism archives, hopes remain that it will one day resurface and be released to an expectant public.
Alumni skipper Chris Shaw, who scored in open play but then missed from the spot in last year's shoot-out, said: "Having come so close to glory 12 months ago, the Alumni team are not only filled with belief that this will be our year, but feel they have a point to prove after the disappointment in 2013."
In response, Josh Kelsall, who takes over the captain's role from Kieran Etoria-King for the second years, said it was "an honour" to be chosen, adding: "My philosophy is to play an expressive brand of attacking football with verve and tenacity, whilst maintaining the values of good old fashioned hard work."
Match dates
Sunday March 23: Alumni v Level 2 (noon KO)
Sunday March 30: Level 3 v Level 1 (11am KO)
Sunday April 6: The Final (11am KO)
All games at IM Marsh, Aigburth (weather permitting)
Level 3 captain Nick Seddon saw his team bow out on penalties at the semi-final stage last year and he is keen to make amends before his side graduates. He said: "It's pretty obvious that it's our final chance to win the trophy – although the first years are the unknown quantity, I'm more than confident that we can take the spoils this year."
The tournament newcomers, Level 1, will be led by Danny Charlesworth, who described himself as being "overwhelmed" after earning the captaincy nomination. He said: "I'm happy with that draw. The first years are the least experienced in the tournament but I'm sure we can win it."
The event's spiritual home of LJMU's IM Marsh campus in Aigburth is once again the venue for the semi-finals, with the Alumni kicking off against Level 2 on Sunday March 23, and the third years facing up to the freshers on Sunday March 30.
Contact your team captain if you would like to play:
First years: Danny Charlesworth – Twitter >>   Email >>
Second years: Josh Kelsall – Twitter >>   Email >>
Third years: Nick Seddon – Twitter >>   Email >>
Alumni: Chris Shaw – Twitter >>   Email >>