The draw for the sixth annual JMU Journalism World Cup has produced a tantalising set of semi-finals ahead of the famous football tournament's much-anticipated return later this year.
Launched in 2010, the competition has developed into a cornerstone of the sporting calendar, dashing and fulfilling dreams in equal measure out on the pitch every March and April.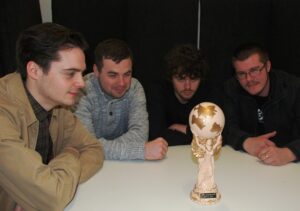 Stunning goals have been scored, shocking penalties have been missed and heroes have been made as a mythology to rival the FIFA World Cup itself has grown during the past five years of fun-filled rivalry.
Conducted at the Redmonds building in the city centre, the latest draw ceremony first saw the veteran Alumni outfit – still yet to taste success in their elusive and lengthy search for the trophy – paired with the ambitious newcomers of Level 1.
That means a meeting between Level 3, who were briskly eliminated at the last four stage a year ago, and their second year counterparts, who were edged out by the eventual winners in the 2014 edition.
The sought-after honour took pride of place during the draw and provided no shortage of inspiration for the teams.
Level 1's Josh Doherty boldly told JMU Journalism Sport: "I look forward to captaining only the second Level 1 team to take top honours, playing a brand of football not seen since Brazil's 1970 World Cup win."
World Cup 2015
Saturday March 28:
Alumni v Level 1
Sunday March 29:
Level 3 v Level 2
Sunday April 12:
The Final
(Venue: LJMU IM Marsh, Aigburth)
Semi-finals kick-off at 11am
Josh Kelsall, the skipper of the third year graduating class, said: "The pain of previous failures is still fresh in the memories of the players in my squad. I can see how much this year's tournament means to the boys already and how determined we all are to take home the trophy.
"This is our final opportunity to play in this magnificent tournament and our only objective is to win. No excuses."
Level 2 captain Steven Carson commented: "I'm looking forward to it. I was hoping to get the Alumni, but we have the third years – I think we can take them, we have got a few big lads. We're going to load our midfield, have only a few defenders, one attacker and a big midfield."
Returning Alumni skipper Chris Shaw added: "We'll face an unknown quantity in the first years but, as always, we approach the tournament with confidence given the growing experience we can add to our squad every season."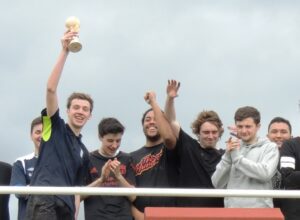 If you have not already signed up for a team and you would like to play, contact a team captain:
First years: Josh Doherty – Twitter >> Email >>
Second years: Steven Carson – Twitter >> Email >>
Third years: Josh Kelsall – Twitter >> Email >>
Alumni: Chris Shaw – Twitter >> Email >>
JMU JOURNALISM WORLD CUP 2015 DATES
(all matches at LJMU IM Marsh, Aigburth)
Saturday March 28: Alumni v Level 1
Sunday March 29: Level 3 v Level 2
Sunday April 12: The Final
Semi-finals kick-off at 11am