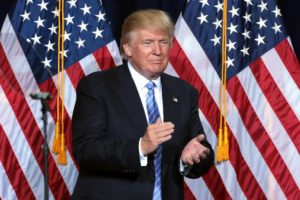 The Donald Trump presidency has been extraordinarily controversial from even before he took the oath of office in January last year.
His stunning election victory over Hillary Clinton turned the world of US politics on its head, with shockwaves reverberating from the White House and his Twitter feed on a near-daily basis ever since.
Many have speculated that his downfall is a realistic prospect, which would make him the first American leader to be forced from office since Richard Nixon in 1974.
The investigation led by Robert Mueller into alleged collusion with Russia during the 2016 presidential race is one strand of concern for Mr Trump.
The upcoming US mid-term elections, which could see the Democratic Party gain control of Congress from the Republicans, are another source of anxiety. Not only might this limit Trump's ability to govern in his uniquely turbulent style, it could also make his possible impeachment a more tangible threat.
YouTube: Guardian
Since pretty much everybody has an opinion about the real estate tycoon-turned politician, we decided to send a team of more than 100 reporters out onto the streets of Liverpool to ask 484 people: "Do you think Donald Trump will last the full four-year term as US President?"
The result was emphatic as an overwhelming 72% majority (349) were of the belief that 72-year-old Trump will see out his mandate until at least 2020, when he would have to run for the White House again. Just 23% (113) felt he is destined to go before then, with 5% (22) stating that they did not know.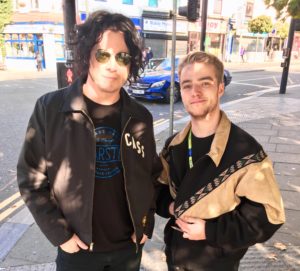 Several of those we spoke to were from the United States, including former White Stripes frontman, Jack White, who was in the city for his weekend concert at the Echo Arena.
The 43-year-old 'Seven Nation Army' singer from Tennessee told JMU Journalism: "Yes, I think he will but he shouldn't. I think the system is already set up in his favour. All the Republicans are just in protection mode."
Compatriot Dominic Johnson of Philadelphia was in agreement as the 28-year-old said: "Yes, I think so. I don't think they'd collect enough evidence to indict him.
"He is doing some good when it comes to finance. I think he might be doing slightly better with his political views the more he is getting into the role. I don't think he'll be voted in again, though."
Closer to home, 20-year-old Kieran McCarthy-Hoare of Liverpool said: "Yes. I have extreme doubt in the US political system, I think he will stay for sure. Personally, I think it's laughable that someone like that can be in charge of one of the biggest countries in the world."
Liverpool pensioner Dorothy Cain, 85, was another who felt Trump will carry on in the job, even though she is not a fan. She told JMU Journalism: "Yes, I do. His own people seem to like him, we don't. I don't… he's too mouthy for me. I don't think he's good for America. He's a businessman, not a politician."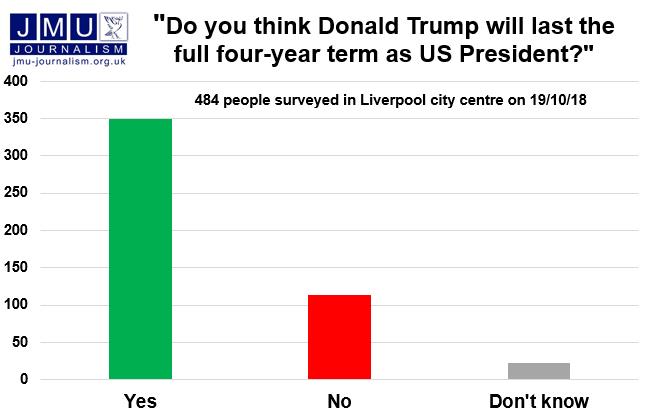 Of those who believe he will not go the distance, a number of respondents said they fear his presidency might come to an end at the hands of a killer, while others felt that the November mid-term elections could prove decisive.
Alice Collins, 20, of Worcester, told JMU Journalism: "No, I think someone will assassinate him, but then I said that when he was elected and he's still there. I think there is too much controversy around him, and too many people passionately hate him."
For very different reasons, 45-year-old Alex Spires of Liverpool predicts Trump's chances of holding onto power are fading. He said: "No. I think he's going to get hammered in the mid-terms. Many will realise that he's mentally unstable and call him out for it.
"Either that or Russia or the other nations will catch up with him. Unfortunately, I think everything that Trump does clouds out everything that the opposition does – he's ripped up the whole rulebook."
Scroll through the edited comments below to read more of the public's opinions in our exclusive poll.

Additional reporting by: Joshua Adams; Emily Ash; Luke Ashworth; Charles Baker-Mullings; Evan Barton; Jayke Brophy; Toni Brown; Isabelle Cairns; Scott Clarkson; Stephanie Colderick; Robyn Couling; Aidan Crisp; Steffan Davies; David Diangienda; Eleanor Dowd; Shannon Garner; Bethany Gavaghan; Beth Harwood; Heidi Hewlings; Samuel Hodgkiss; Rhiannon Hogarth; Olivia Houghton; Lauren Hughes; Patrick Allen; Conor Allington; Thomas Barnes; Samuel Blythin; Eithan Boulter-Ashcroft; Anton Brooks; Kieran Carson; Jack Circuit; Ellie Colledge; James Cosgrove; Ben Davies; Luke Edwards; William Feaver; Lewis Gibson; Matthew Gomersall; Elliott Goodyear; Michael Grimes; Ben Hamlet; Cai Hilditch-Roberts; Elliott Johnson; Jac Jones; Bernard Katrycz; Alex Ayuso Hernández; Kamran Bahra; Harvey Cleere; Matthew Holt; David Lawson-Cooke; Andrew Lindsay; Andrew Lott; Daibhog McKee; Andrew Morrison; Shannon James; Liam Kennedy; Charlie Lau; Lewis Maclean; Annisha Maraj; Paul McAuley; Anna Michaelides; Monika Minczuk; Jack O'Brien; Chloe O'Connor; Mia O'Hare; Marianna Owen; Reece Pape; Miles Parkes-Maunder; Jack Playle; Wesley Powell; Shannon Quirk; Harley Rapp; William Rayment; Ben Roberts-Haslam; Nathan Sartain; Ryan Wykes; Calum Snell; Sarah Taylor; Ethan Taylor; Brendan Thomas; Alex Usher; Ruairi Walsh; Neve Wilkinson; Romy Wilson; Laura Wooding; Archie Collyer; Danielle Norton; Hope Horsman; Jessica Beckett; Henry Brown; Jack Murray; Madeline Freeman; Emily Campion; Jorge Capera Holguin; Tallulah Suleman; Jiaqi Hao; Xuan He; Alex Wang; Tianhui Xie; Beck Pascal; Lewis Pugh; Max Quinn; Luke Reid; Jordan Rennison; Keiron Ringwood; Max Rudd; Joseph Schofield; Louis Trotter & Harry Upton.