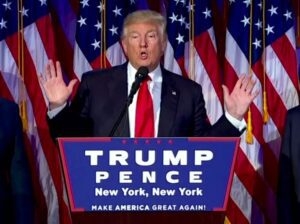 Reporting: Matthew Noonan, Tom Begbie & Arun Lal
Donald Trump has defeated Hillary Clinton to become the 45th President of the United States in a stunning upset that was predicted by few apart from the man himself.
The Republican candidate, whose controversial and often inflammatory views have dominated a deeply divisive election campaign, surpassed the 270 electoral college votes he needed to beat Democrat hopeful, Clinton, who conceded to Trump by telephone.
The 70-year-old real estate tycoon and reality TV star will succeed Barack Obama in the White House when his eight-year term of office ends in January next year.
The Liverpool Guild of Students played host to one of many election parties across the city, with hundreds in attendance watching the results unfold on giant TV screens.
The party included American-themed food, plus insights and analysis from political experts, giving a greater sense of the audience's understanding of the ins-and-outs of the often complicated US voting system.
YouTube: JMU Journalism TV
The mood was lively but the atmosphere cooled when it became clear that Trump would be the eventual winner, with many students left astonished by the result.
Katya Heden, 20, from London, told JMU Journalism: "I'm really shocked – the votes for Hillary Clinton should have been way more convincing than they are. Trump winning is a very scary thought. Since Brexit everything has gone wrong. Obviously America is the biggest superpower and we couldn't predict what was going to happen."
Wirral student, Jess King, 19, said: "I don't think anyone expected Donald Trump to win. I can't help but feel that this is Brexit all over again. I'm very disappointed."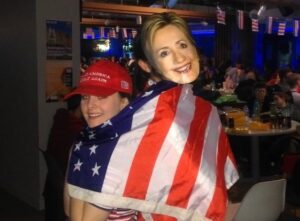 Birkenhead resident Callum Carry, 23, said: "I am terrified, I despise the man. I can't trust him as far as I can throw him and I especially don't trust him in charge of the nuclear weapons."
Another person concerned about the outcome was Jack Gillfall, 20, of Chester, who said: "What worries me is that Donald Trump is the president. Capitalism has become such a strong ideology, now we have a tycoon billionaire who is the leader of the free world."
Dominic Jones, 22, from Canterbury, did have an inkling that all this was a distinct possibility. He told JMU Journalism: "I thought Donald would win it beforehand, because I had thought there was a larger pool of shy Trump supporters.
"It's the same with what happened with the EU referendum, when they [pollsters] got it wrong. Trump supporters didn't want to engage as they thought they would've been called a racist."
Hardcore election fans were treated to an American-style breakfast as the final state results came through in the early hours of the morning, with bleary-eyed students having had a night they may never forget.
White lights illuminate a hall that was a hive of energy 5 hours ago. Trump supporters quietly confident @JMUJournalism #ElectionNight pic.twitter.com/9rpadrC0eS

— Thomas Begbie (@ThomasBegbie1) November 9, 2016
One man walks out of the hall shouting "good luck everyone" – it's met with laughter by those still awake @JMUJournalism #ElectionNight

— Thomas Begbie (@ThomasBegbie1) November 9, 2016