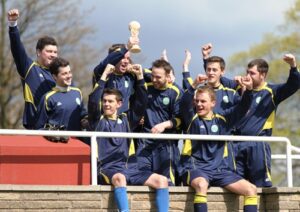 A first-half hat-trick by Adam Smith and two goals from Will Walton secured a third successive JMU Journalism World Cup title for Level 3, as they roared towards graduation with a 5-0 win against Level 1.
The third years have never lost a match in this competition, or won many fans with their 'physical' approach in the past, but they saved their best for last by bowing out with a commanding display.
Victorious captain Liam Deveney told JMU Journalism: "It's a fantastic feeling to win a third consecutive final. Our performance today was undoubtedly the finest we've given in any JMU Journalism match. I'm very proud of the players who have secured their place in tournament history."
At kick-off, the final appeared to be on course for unprecedented numbers of spectators under Aigburth's blue suburban skies, as more than a hundred people lined the pitch at IM Marsh.
Those spectators may well have disappeared off to classes elsewhere on campus within the first ten minutes, but they missed an entertaining final, despite the apparent talent gone to waste due to
multiple players grumbling about being "played out of position".
The first years, feeling confident after their eight-goal haul in the semi-finals, were outplayed for long spells, and going four down at the break left them with little hope of a comeback.
However, the new boys can be consoled by their future prospects. If they show just a quarter of the effort, energy and commitment towards their university studies as they do playing football, they should comfortably pass all their coursework two years from now.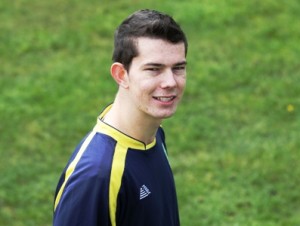 Neat interplay between Deveney and Walton set the latter up to open the scoring, before Smith claimed the distinction of finishing as the JMU Journalism World Cup's record scorer on seven goals thanks to three cool finishes past a forlorn-looking Niall Dudley before half-time.
Level 1 rallied after the interval, with Jack Horrocks, Noel Reilly and Jack Maguire offering particularly spirited resistance, but they could not find an opening.
Walton slipped the ball under Dudley to make it five, though he could have eclipsed fellow scorer Smith if he had not lobbed two near-identical chances over the crossbar as Level 3 unrelentingly pressed forward for more goals.
Level 1 took defeat in good grace and pledged to bounce back next year, as skipper Nick Seddon said: "Congratulations to Liam and the third years. They played us off the park and thoroughly deserved their third consecutive title. We will learn from this defeat and come back stronger."
For Level 3's unbeaten stars, some of whom may well have earned a spot in next year's Alumni team, they can look back on an unforgettable treble triumph.