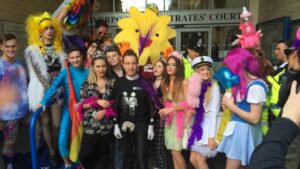 Garlands nightclub has been forced to stay closed for the next three months following a new court order, despite a vocal and colourful protest held by demonstrators outside.
An internet petition calling for the student and gay-friendly venue to reopen gained more than 2,500 signatures prior to today's second hearing at Liverpool Magistrates' Court, following a provisional closure order last Friday after a drugs raid by 140 Merseyside Police officers the night before.
Police said they found large quantities of what are believed to be controlled drugs during the dramatic raid, which were described as "shock and awe" tactics by the Garlands legal team.
Representatives for the 1,300-capacity club had earlier failed to get Garlands back in business in time for Valentine's Day at the weekend, pending the outcome of a further hearing before District Judge Richard Clancy today (Wednesday).
Merseyside Police Chief Inspector Mark Morgan gave evidence and prepared a report for the court on the alleged narcotics dealing at Garlands following a lengthy covert investigation, stating that the club's toilets were like a "sweet shop" for drugs.
Chief Inspector Morgan said: "I have some really serious concerns around the problems attributed to this venue. There are some clear crime and public safety issues which need to be addressed and can only be addressed, in my view, by the closure of that venue.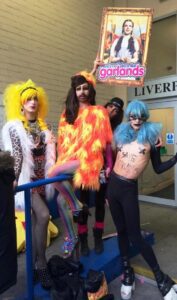 "Quite simply we have already had too many adverse incidents and crimes which include people being critically ill in hospital which I, as a police officer, simply cannot stand back and allow to continue."
Representing Garlands, Leo Charalambides challenged CI Morgan over some of his claims, later describing the three-month police closure application as "a blinkered approach that nothing else would do, without any examination of alternative, [which] is wrong and unlawful".
Mr Charalambides said he was "quite astonished" at the levels of support given to the twice-weekly club night since it was shut down, adding Garlands is "a home and a vital hub for the community".
After a delayed start in front of a packed courtroom and following more than two-and-a-half hours of testimony, the judge eventually rejected an offer made by Garlands to voluntarily stay closed for one further week.
District Judge Clancy said: "What was going on was a drug free-for-all. The parties know what was happening inside the club. Staff were meant to be looking after patrons. It paints a very nasty picture about drug abuse. Selling illegal drugs laws apply and they are here to stay."
He agreed to the request by Merseyside Police to keep the Eberle Street premises, which opened in 1993, shut for three months – disappointing around 40 protesters on the steps of the court, although the news that there was no permanent closure order was greeted with cheers and singing.
Other backing had earlier come in form of the #SaveGarlands hashtag on Twitter, while Liverpool singer and former X Factor runner-up, Rebecca Ferguson, had tweeted: "Always loved garlands, always a friendly place with good people up for a laugh never any fighting hope it stays open xxx"
Additional reporting by Nathan Archer; photo galleries by Natalie Townsend.
Click on a thumbnail to enlarge the images.