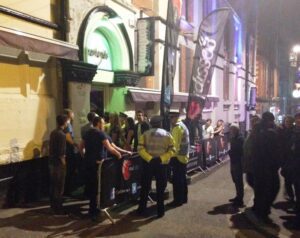 Popular student nightspot Garlands remains closed following a dramatic midnight drugs raid by 140 officers from Merseyside Police.
The police swept through the Eberle Street bar in Liverpool late on Thursday night following a covert investigation into reports of Class A drug dealing at Garlands, immediately shutting the venue as more than 200 students were sent outside.
Two arrests were made as police found large quantities of what are believed to be controlled drugs.
Representatives from the 1,300-capacity club went to Liverpool Magistrates' Court on Friday morning hoping Garlands would be allowed to reopen in time for the Valentine's Day festivities in town on Saturday, pending the outcome of a further hearing next week.
However, District Judge Andrew Shaw told the court: "I agree with the closure application. I accept the defence are working with limited instruction but the case is very strong. The most recent search alone found 90 bags of drugs and tablets, I assume to be sold on the night. I'm firmly in favour of closing the premises today until the next hearing on Wednesday."
As the raid was carried out, Chief Superintendent Jon Ward said: "The majority of clubs and pubs in the city centre work closely with Merseyside Police and manage their venues in a responsible way, contributing greatly to maintaining the city's reputation as a great place to visit.
"Sadly, we have been given no option but to take positive action at this premises this evening following an extensive operation. Over the last few months officers have found that Class A drugs and other substances, were being openly dealt within the premises. It is clear that this establishment didn't adhere to the same high standards as other licensed premises in the city.
"Merseyside Police is committed to reducing violent crime and making the streets safe and will not tolerate the open dealing and use of drugs at night time venues in our city. We will visibly and robustly confront those who commit these types of offences."
"This is not a victimless crime. Drug dealers are exploiting young, vulnerable people and selling them illegal drugs.
"In some instances those who have brought drugs such as GBL (which is actually an alloy wheel cleaner) have required hospital treatment and we are fortunate that there have been no fatalities.
"With four universities based in the city, many young people who are away from home for the first time find themselves enjoying the night life the city has to offer.
"We will be working with universities in the city in the coming days to warn students about the dangers that drugs and chemicals can have, particularly if mixed with alcohol, or other substances.
"We want these young people to enjoy their experience of Liverpool and don't want them to fall prey to unscrupulous drug dealers, who are only concerned with making a fast buck."