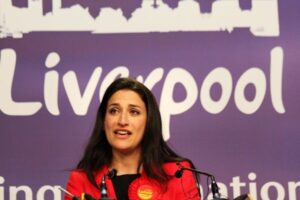 Liverpool-based MP Luciana Berger has spoken of her admiration for the city that she represents in Parliament and how it is a "creative hub".
Speaking exclusively to JMU Journalism, Labour MP Miss Berger, who was elected in May 2010 to represent the Wavertree constituency, says she has settled into Liverpool life fairly comfortably and is regularly seen attending concerts and other local events.
She said: "I may be from Wembley, but Liverpool is my home. I live here and this has been my home for a number of years.
"I'm up every single week and I attend a lot of concerts up here, I can't get enough of it!"
Attending the recent Liverpool Music Awards Miss Berger was impressed with the musical talent the city has to offer and praised the event itself. She said: "It's been a fantastic celebration of so much talent we've got right across the music industry here in Liverpool.
"The venues, the artists, the producers and all of this just follow on and I just think that's fantastic. I mean what other city has its own music awards? This really is a creative hub, a cultural hub and I just think it's fantastic."
Despite the current economic climate, the Shadow Minister for Climate Change believes the city of Liverpool is thriving and praised its fighting qualities in the midst of the challenges its residents face. She said: "Liverpool is such a creative city. There are difficult times everywhere, and we do have considerably higher unemployment rates here compared to other cities. I think we just battle through in the face of adversity."
Miss Berger, who visited Liverpool Screen School last year, said: "It's a responsibility upon all of us as MPs to do everything we possibly can to attract new opportunities, with the Liverpool Embassy in London doing our bit, and one of the things I've campaigned on is absolutely crucial, which is to maintain the creative industry sector. I think everyone is suffering because of the economy… we know that."
With youth unemployment estimated at around 1 million, Miss Berger believes that opportunities should be given to all and that not everyone should be forced into university if they have other ambitions they wish to fulfil.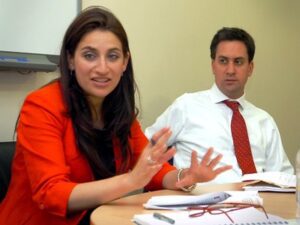 She told JMU Journalism: "I think we have to start earlier than 16. I was at a youth club in Kensington recently and their music group is brilliant. They have lots of volunteers and great equipment and they get the most out of it because there's no-one there all of the time to help them with it.
"I'm really worried about what the Government is doing and trying to push people down the academic route. Actually, if you look at artists like Dizzee Rascal, if he never had an opportunity in music he would have been kicked to the sidelines and written off for the rest of his life. He's now a multi-platinum-selling artist and he took his opportunity that he was given. We have to make sure that young people are given similar opportunities regardless of where they come from."
Miss Berger has recently made her first film – about food poverty – which premiered at FACT cinema last weekend. She said: "I wanted to raise the profile about it and how serious an issue it is. As politicians we work hard to listen. It's quite challenging and there are a number of issues I don't think the Government are taking seriously, such as food poverty."