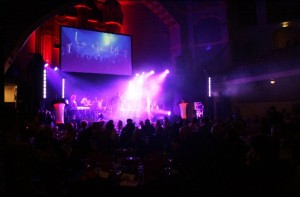 The city's music community flocked to town to celebrate the inaugural Liverpool Music Awards at the weekend.
A star-studded roster of Merseyside's music industry luminaires were honoured at the awards at Grand Central Dome.
Devoted fans lined the red carpet to welcome their favourite acts and offer them a warm reception on a mercilessly chilly evening.
Guests of particular note included Spice Girl Melanie C, MOBO unsung winner Esco Williams and X Factor stars Craig Colton and Rebecca Ferguson.
The awards were hosted by BBC Radio 2 presenter, Janice Long, who opened proceedings with a rousing address stating: "These awards not only celebrate the innovative, but the downright excellent, which Liverpool is very, very good at."
Singer songwriter Ali Ingle and former X Factor finalist Rebecca Ferguson both walked away with Artist of the Year award within their respective gender categories.
Ali Ingle told JMU Journalism after picking up his award: "This is the year that I've felt I've actually stepped into the game. I've been working hard and practising in my bedroom a lot, but this gives me an incentive to keep going and carry on."
Pop star turned West-End performer, Mel C, was on hand to present Rebecca Ferguson with her award as she made her affections clear towards her Merseyside roots.
Mel C told JMU Journalism: "I doubt you will ever find another city in the world where you would see the amount of talent that you have seen on this stage tonight.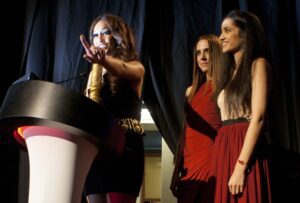 "We're such a great city and I think the awards will go from strength to strength."
Ferguson said: "I've just got an award off a Spice Girl! There are so many people here tonight that have inspired me.
"I've been blessed to be able to travel the world the past two years and there's no place like Liverpool. You'll never find the dignity and pride in our city and I feel so lucky to be a part of it."
The Hummingbirds picked up the sought-after Ones to Watch award, which was voted for by the general public prior to the ceremony.
Local X Factor contestant Craig Colton opened the entertainment and he told JMU Journalism: "I was the first voice ever to sing at these awards, that's a little thing to keep with me forever. I was amazed to see the people in the crowd and who was winning the awards."
The rest of the evening featured performances by 2006 BBC Young Musician of the Year, Mark Simpson, MOBO winner Esco Williams, 80s electro outfit Stereo Electric Mistress and four-piece band Lawson, fronted by Scouser Andy Brown.
LIPA graduates Stealing Sheep took the gong for Band of the Year despite their absence, while Single of the Year was awarded to The Tea Street Band who stormed to the stage upon the announcement.
Tord Øverland-Knudsen and Daniel Haggis from Liverpudlian indie rock band The Wombats were full of praise for the awards and stressed its importance in giving local artists a platform outside the city.
Daniel told JMU Journalism: "We played in Liverpool for two years before we could get gigs elsewhere in the country, so we know how hard it is to get outside the city. It's high time there were more awards in Liverpool, hopefully we can bring the spotlight onto the city."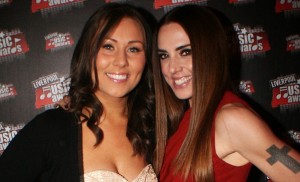 The Roger Eagle Award for outstanding contribution to music went to Liverpool Sound City founder Dave Pichilingi and Phil Hayes from The Picket was named as Local Music Champion.
MP for Walton, Steve Rotheram, was also in attendance to honour the cream of Liverpool's musical crop. He spoke to JMU Journalism after the awards, commenting that the future looks bright for Liverpool's music scene.
He said: "These awards show you that despite the fact that Liverpool is known for its historical musical importance in the world, it's still a vibrant scene now. Some of the bands and nominations support that view and show that it's still top class and that a next generation is there."
Additonal reporting by Joel Richards