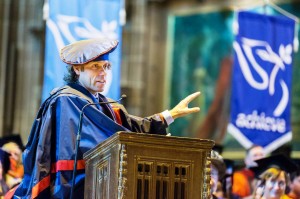 Liverpool-born comedian and actor, John Bishop, was today awarded an Honorary Fellowship by Liverpool John Moores University in recognition of his outstanding contribution to the arts and charitable causes.
The ceremony took place at the city's Anglican Cathedral this morning, where the Scouser joined hundreds of LJMU graduates to receive his honour.
The TV star is typically known for his stand-up comedy routines and distinct Scouse accent. However, since 2012, Bishop has also been recognised for his charity work, after raising £4.2m for BBC Sport Relief, with the help of LJMU's Professor of Applied Sport and Exercise Science, Greg Whyte.
Bishop said: "It's lovely to receive this, particularly when there are people who have actually worked for their awards… all I've done is turn up today.
"I suppose there are three main reasons why I've accepted it: one is my association with Greg Whyte and the Sport Relief event – I couldn't have done it without his support. Another thing is the institution itself, it's nice to be associated with John Moores and I'd like to carry on that involvement, and the other thing is, I just like 'the look'!"
When complimented about his cap and gown, the 47-year-old replied: "This is my new tour poster. Definitely the best fancy-dress party I've been to!"
He added: "In all honesty, I have been offered something similar elsewhere but the reason I wanted to accept this today was because I know John Moores is a great institution – it works a lot in the field that I'm involved in."
John worked as a sales rep for many years before becoming a stand-up comedian in 2006. Within three years he was playing to sold-out arenas and in 2013 was described by PETA (People for the Ethical Treatment of Animals) as the sexiest vegetarian of the year.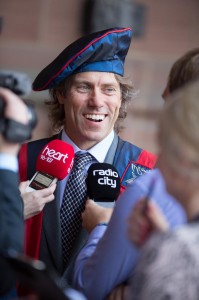 John's wife, Melanie Bishop, who was also present at the ceremony, took photographs of the comedian outside the cathedral before the service.
When asked if she was proud of Bishop, she smiled fondly and replied: "Yes", to which his response was: "Well, it's nice to hear that she's really proud of me because we've argued all the way here! Apparently her phone's not working and it's my fault because I sorted out the contract. You don't get a fellowship for that, do you?"
Other recipients of LJMU's honorary awards this year included Liverpudlian actor Paul McGann, the leader of the £1 billion Liverpool One regeneration project, Rodney Holmes, as well as triple Olympian, Kate Richardson-Walsh.
The artist who crafted the Liverpool city centre Hillsborough Memorial, Tom Murphy, was also among those being honoured, as was the Royal British Legion, which received a corporate award.
The LJMU Fellowships are given in recognition of outstanding achievement by an individual in a given field or profession, and to those who exemplify the university's ethos to 'dream, plan and achieve'.