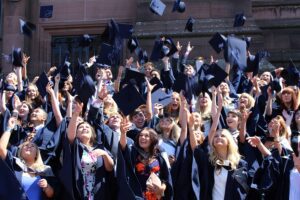 The sun was shining brightly as proud parents, friends and family members gathered at Liverpool's Anglican Cathedral to watch the JMU Journalism Class of 2014 graduate yesterday.
The graduation ceremony, which was presided over by LJMU Chancellor Sir Brian Leveson, was conducted in a spirit of celebration, encouraging the departing students to reflect with happiness upon their achievements at the culmination of their academic journey.
Liverpool-born actor Paul McGann was among those being acknowledged on the day as he received an Honorary Fellowship from LJMU, before the Journalism and International Journalism cohort took to the stage, complete with traditional caps and gowns.
In addition, several students earned further recognition during the after-party at Redmonds, where Jack Maguire was named as the JMU Journalism Reporter of the Year.
Earlier in the week, Jack had collected the Research Excellence Prize after giving a presentation based on his dissertation, which had the highest mark in this year's class – along with fellow recipient, Chris Cunningham, as they each also received £100.
Jack, who is now heading back home to take up a job on his local paper, the Jersey Evening Post, said: "I feel humbled and it's been brilliant to be around the great people I've spent three years with today. It's a bit emotional and I don't really want to leave. I'm going back to Jersey tomorrow to start work full-time.
"Third year was the time of my life – I loved it. Although it was hard, I wouldn't change it for anything."
The Neil Warburton Prize was established in 2000 by the family of a student who died whilst on the journalism course. It is awarded to the graduate with the highest final grade, plus a £100 bursary, and this year Gemma Sherlock earned the accolade.
Gemma said: "It's been an overwhelming day, and with the Neil Warburton award it's that little bit extra, as well as getting a first. It's very emotional and I feel very honoured and grateful, not only to my family but also all the lecturers who have supported me.
"I'm going off to be a trainee reporter for the Lancaster Guardian now and I'm very much looking forward to it."
Head of Journalism, Professor Chris Frost, told the graduates: "As you leave us at the end of your course we wish you all well in your future careers and hope that today's graduation is just one of a string of important days that will make your life happy and successful."
Class of 2014 graduates
Bachelor of Arts (with honours): Journalism
Alex Allen; Patrick Arnold; Jessica Ball; Lucy Bannister; Leanne Bates; Lewis Bell; Jack Birch; Abi Bramhall; Claire Bynoe; Lauren Cordelle; Elen Crean; Alisha Daya; Chantal Dickinson; Niall Dudley; Bill Evans; Simone Foggin; Kerryleigh Gough; Aimée Hamilton; Jessica Hayes; Helen Healy; Nadine Higham; Jack Horrocks; Stuart Irving; Amy Jacquemart; Lisa Jones; Chelsie Kirman; Damian Leonard; Jennifer Letford; Grace Lindsey; Bolatito May; Anna McCormick; Ryan McElroy; Cillian McGinn; Paul McIntyre; Andrew McKenna; Sarah Mee; Loren Mitchell; Georgie Leigh Moore; Aimee Morris; Hannah Newman-Jones; Lauren Percy; Nathan Potter; Shannyn Quinn; Sarah Raynard; Claire Reid; Gemma Sherlock; Calum Shuker; Derek Walsh; Joshua Weale; Bethany Wells; Victoria Wilson-Parry.
Bachelor of Arts (with honours): International Journalism
Laura Beddows; Gemma Brezinski; Liberty Chrismas; Karl Cryer; Christopher Cunningham; Bobbie-Leigh Gallivan-Jones; Ida Husøy; Aimee Jones; Lisa Kerr; Jessica MacDonald; Jack Maguire; Jade Masri; Kirsty McColgan; Nathan McCrae; Harriet Midgley; Hazel Miller; Amy O'Reilly; Nathan Pearce; Julianna Petkovich; Laura Ryder; Nick Seddon; William Shaw; Jessica Watters.