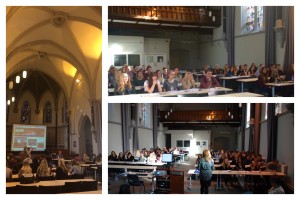 The cast and crew of JMU Journalism's Rocky 9 assembled for duty this week, with the briefing for the year ahead held in the atmospheric surrounds of the John Foster Building Moot Room.
The beginning of the 2015/16 academic timetable brought the graduating class back to uni, this time picking up the baton as the JMU Journalism news reporters on our website, newspaper, podcast and YouTube TV channel.
Along with guidance about the tasks facing them in their final year, students were briefed about how they are expected to operate as the largest news team in the city.
Third year trainee journalist, Christy Jade Biggar, said: "It's a bit scary but life is moving forward, so soon we'll be settling down and in full-time work. I think we need to embrace the final year of our degree, and treasure the time we have left with our little journalism family."
Looking ahead to the challenge of eclipsing the efforts of previous years on the JMU Journalism Rocky odyssey, Christy added: "If we work hard, we'll come out on top. We can do it."
Fellow student Steven Carson said: "I'm looking forward to working in groups with various like-minded people in both radio and sport and anyone else across the course I'm able to help.
"I'm quite excited about the prospect of acting and being treated as an employee, instead of just a student, for the next few months. To be honest, I can't wait to get stuck in and begin my maturity into hopefully becoming a professional journalist."
Steven, the captain of the third year JMU Journalism World Cup team who lost in the 2015 final to the Alumni, added: "We should have won last year and I know the lads are ready to go again and take the trophy this time round."
Rocky IX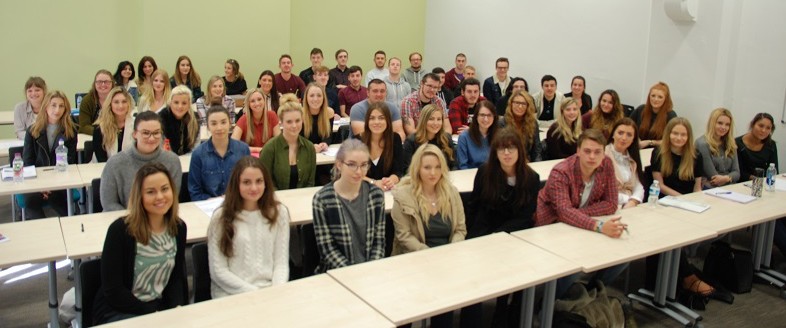 JMU Journalism Text: Conor Allison; Jessica Arnell; Rochelle Beighton; Christy Biggar; Steph Bocking; Jessica Bond; Katie Braithwaite; Nathan Burgess; Amy Cole; Beth Collins: Sophie Corcoran; Ben Cummings; Emily Curren; Lucy Darbyshire; Sam Davies; James Gamble; Caoimhe Harkin; Michael Henry; Hannah Hodgson; Beth Hughes; Ryan Jones; Leigh Kimmins; Jenny Kirkham; Connor Lynch; Charlotte Mann; Tiernan McGee; Lucy Nixon; Lewis Phillips-Calvert; Lewis Price; Amber Pritchard; Lisa Rimmer; Barry Rocks; Hannah Rogers; Kamara Samuels; Sophie Sear; Callum Smyth; Elle Spencer; Steph Sweeney; Jack Whitehead
JMU Journalism Radio: Noor Ali; Gabrielle Britton; Steven Carson; Matt Crosby; Laura Gilchrist; Alex Gorton; Kate Hewison; James Knowles; Adam Lawrance
JMU Journalism TV: Beth Cronin; Eleanor Davies; Alex Duncan; Vaiva Gedvilaite; Jessica Jones; Astra Newton