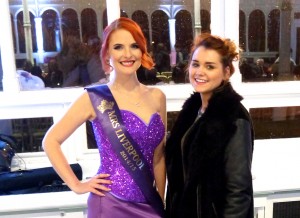 A fashion show hosted by Mrs Liverpool Galaxy, Melanie Franzoni, has raised £1,500 for the Royal Liverpool Hospital renal unit and the Christie cancer charity.
The show, hosted at the Isla Gladstone conservatory in Stanley Park on Friday was showcased as a thank-you to the surgeons who saved her dad's life when five years ago Melanie underwent surgery to donate him a kidney.
Catwalk collections were showcased by local designers, including Pawabella pet boutique, run by 12-year-old entrepreneur Angel Thomas and Chio Couture, who are making Melanie's dress for her upcoming Mrs UK Galaxy pageant.
The former model from Huyton told JMU Journalism: "I tried to do an event about five years ago right after the transplant and because I was a nobody, no-one was interested but now that I have the title it's really helped. I wanted to give something back to the hospital to say thank you."
Angela McShane, events and community fundraiser for the Royal Liverpool Hospital, told JMU Journalism: "Fashion shows are not something we usually get involved in but Mel wanted to do something for us. Everyone who came are all local to Liverpool, so it's not just about her story – it's about helping other local talent to get their name around town."
On February 6, Melanie will go up against the other finalists at Park Hall Hotel in Chorley for the UK title and a chance to compete in Galaxy pageants in the USA.