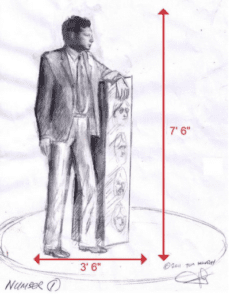 Liverpool City Council has given the green light for a statue of the late Beatles' manager Brian Epstein to be erected.
The statue of 'the fifth Beatle' is to be designed by award-winning sculptur Tom Murphy, whose previous work includes a statue of John Lennon at Liverpool John Lennon Airport. The Epstein statue will be situated outside his former family home on Anfield Road which has been converted into a hotel.
Fundraising to complete the project has already started from a group of Epstein's family and friends and they hope to accumulate £60,000 over the coming months through a series of events. It already has the backing of some of Epstein's former acts, Billy J. Kramer and Gerry Marsden of Gerry and the Pacemakers.
It is hoped the statue will contribute to Liverpool's Beatle tourism industry which is valued at around £200million by Jerry Goldman, director of the Beatle's Story Museum on Liverpool's Albert Dock.
It is the latest in a line of tributes to Epstein. A brand new movie about his life has been given the go ahead and marks the first time a feature film about the Beatles has acquired the rights to include their songs.
Later this month sees the premiere of 'Epstein: The Man Who Made the Beatles', the long-awaited play which forms part of the official programme for Liverpool's 50th Anniversary of The Beatles. The cast is led by TV star Andrew Lancel as Epstein and revolves around the icon's last days. The play runs from the November 15th – December 1st in the aptly named Epstein Theatre.