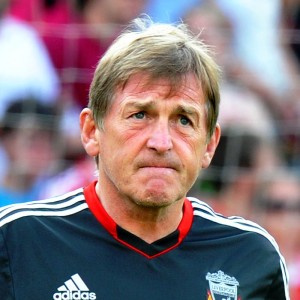 Kenny Dalglish has lost his job as Liverpool FC manager less than 18 months after making a remarkable return to the post he first relinquished in 1991.
Following several days of speculation and an end-of-season review in Boston between the club's American owners and Dalglish, it was revealed on Wednesday that the Reds legend would no longer be in charge of the team so close to his heart.
The club said in a statement: "Fenway Sports Group (FSG) and Liverpool Football Club announced that Kenny Dalglish is to leave his post today as manager after having his contract terminated.
"After a careful and deliberative review of the season, the club came to the decision that a change was appropriate. It is not a decision that was reached lightly or hastily. The search for a new manager will begin immediately."
The club did not disclose the names of potential replacements for the man who won 14 major honours as a player and a further six as manager during his first spell at Anfield between 1977 and 1991.
However, Swansea City manager Brendan Rodgers and Wigan Athletic's Roberto Martinez have already been linked with the position, while it has been suggested that former Reds boss Rafael Benitez – currently unemployed – could be persuaded to return.
Dalglish had breathed new life into Liverpool after replacing current England manager Roy Hodgson at the helm in January 2011, but a disappointing Premier League campaign coupled with criticism of last summer's signings brought an end to his second stint in charge.
Victory in the Carling Cup final against Cardiff City in February and an FA Cup final appearance at Wembley earlier this month, which ended in defeat by Chelsea, did not appease the owners Fenway Sports Group.
FSG had targeted a top-four finish in the Premier League this season, and with it qualification for the UEFA Champions League, but the Reds were way off the pace and ended the campaign in a disappointing eighth, behind Merseyside rivals Everton.
Dalglish gave an immediate reaction to the decision: "It has been an honour and a privilege to have had the chance to come back to Liverpool Football Club as manager. I would not have swapped the Carling Cup win for anything as I know how much it meant to our fans and the club to be back winning trophies.
"Whilst I am obviously disappointed to be leaving the football club, I can say that the matter has been handled by the owners and all concerned in an honourable, respectful and dignified way and reflects on the quality of the people involved and their continued desire to move the football club forward in the same way as when they arrived here.
"I would like to thank all of the staff at the club for their effort and loyalty. I said when first approached about coming back as manager that I would always be of help if I can at any time and that offer remains the same.
"Finally, I want to put on record my heartfelt gratitude to Liverpool's fans, who have always given me and the club their unwavering support. Without them neither the club nor I would have achieved anything."
Principal owner John Henry said: "Kenny will always be more than a championship winning manager, more than a championship winning star player. He is in many ways the heart and soul of the club… Kenny will always be a part of the family at Anfield.
"Our job now is to identify and recruit the right person to take this club forward and build on the strong foundations put in place during the last 18 months."