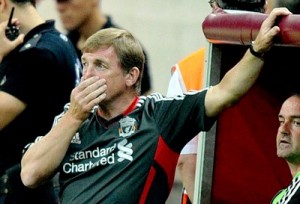 For some Liverpool fans, it will always be an act of treason to criticise King Kenny Dalglish, but a growing number of supporters are becoming much more vocal about the club's alarming slide.
A 2-0 defeat at Newcastle on Sunday saw Liverpool slump to their sixth defeat in their last seven Premier League matches. The 3-0 derby victory against Everton at Anfield, and reaching Wembley twice under Dalglish this season – including lifting the Carling Cup – have given Liverpool followers far more than crumbs of comfort, but elsewhere results have been desperately disappointing.
The loss against the Magpies was compounded by the red card shown to Pepe Reina for the 'clash of heads' that may not have made as much impact as Newcastle's James Perch claimed, but there was no disguising the obvious intent by the Spanish goalkeeper.
Reina now faces a three-match ban, which rules him out of the eagerly-awaited FA Cup semi-final with Everton at Wembley, and leaves Dalglish turning to back-up 'keeper Alexander Doni. The Brazilian has not made a competitive appearance since joining the Reds from Roma last summer.
Matters in the league are the immediate concern for Dalglish, who has presided over Liverpool's worst run of form in 58 years. Liverpool stand in eighth place, just below Everton, a massive 34 points behind leaders Manchester United and only 14 points off the relegation places.
This has caused some fans and pundits to question his position in charge, and while it may seem unlikely that Liverpool's legendary manager will either step aside – or be asked to by his employers – the very notion of his vulnerability would have seemed ridiculous until recently.
Not so, at the moment.
Of all his big-money buys since returning to the helm in January 2011, only Luis Suarez has shown enough form on the pitch to unquestionably justify the financial outlay, but even that came at the expense of his controversial racism row involving Patrice Evra.
https://www.youtube.com/watch?v=WILvn_h9Vxo
Dalglish was heavily criticised for his defence of Suarez at the time, and the Liverpool boss also appeared to suffer the extraordinary sight of £35m buy Andy Carroll aiming a volley of abuse at him when he was substituted against Newcastle, before he stormed off down the tunnel.
Carroll's torrid afternoon and the cruel taunts of those Newcastle fans who once adored him would have hurt the towering striker, though it was still surprising to see him so clearly frustrated with his boss. One might easily have expected the roles to be reversed, given the forward's distinct lack of progress since his club record-signing in the same month as Dalglish came back to Anfield.
Dalglish defended Carroll afterwards, saying: "He was frustrated with the way the game had gone, not just for himself but for the team. That frustration takes him up into the dressing room.
"We have not got a problem with people showing desperation or disappointment or frustration. It was just frustration and disappointment about the way the game had panned out, but we need to channel it better than we have done."
Two Premier League matches, at home to Aston Villa on Saturday and a trip to Blackburn next Tuesday, offer Liverpool the chance to find the winning formula again, before the FA Cup semi-final against Everton on April 14th.