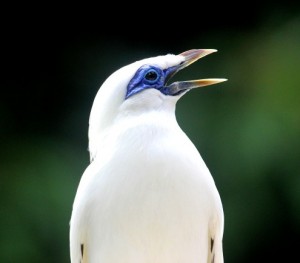 One of the world's most rare species of bird has been released back into the wild with the help of Chester Zoo.
The Bali Starling was under threat of illegal poaching and reduced the native population to just six birds back in 2001.
But with the help of Chester Zoo four pairs of the rare birds, which have been classed by conservation organisations as critically endangered, have been released into a carefully selected area in the heart of the Indonesian island.
Over the past few years conservation breeding efforts have seen a small recovery to between 50 and 115 of the birds, which is why the release back into the wild marks a significant step forward for the long-term survival of the species.
Dr Roger Wilkinson, Chester Zoo's Head of Field Conservation and Research, said:  "This stunning starling is critically endangered because it has an extremely small range and a tiny population, which is suffering from illegal poaching for the cage-bird trade.
"However a lot of hard work by dedicated people who care enough to try and save this wonderful species has now seen us reach this momentous moment where we've been able to help release eight birds into the wild.
"The area they were released was specially picked as it was well protected and had staff able to monitor the rare birds. Quite a crowd turned out as most people local to the area had never seen a live Bali starling before."
Chester Zoo has provided expertise and funding for a breeding centre in Bali for these birds.
They will be working alongside the Begawan Foundation and Jurong Bird Park, assisting in the breeding and release programme and monitoring of wild populations.
Andrew Owen, the zoo's Curator of Birds, said: "This is really great news but it's only the start. Whether or not they now go on to reproduce and ensure that youngsters survive and the colony expands is the next significant step. There's an awful long way to go but things now look a little brighter for the future remarkable species."