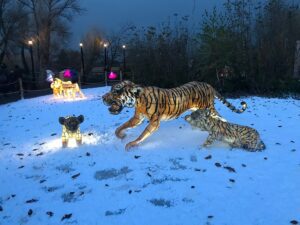 An enchanted wonderland has opened at Chester Zoo just in time for Christmas.
The entire place has been lit up to create a magical environment for families, with traditional festive scenes.
The animal-themed illuminations and nine different worlds have been created to get visitors in the Christmas Spirit. These include Cloud Cuckoo Land, Ice Kingdom and Garden of Delight. The annual event raises funds to prevent species extinction around the world.
Designed by Wild Rumpus, 'The Lanterns' have been inspired by the animals living at Chester Zoo and this year's festival is set to be the biggest to date. Rowan Hoban, Director of Wild Rumpus has been working on the sets and décor since spring.
She told JMU Journalism: "We aim to transport our audience out of their day-to-day lives. You should step through the doors into this event and feel like you have been transported into an incredible wonderland.
Twitter: Nadia Breen
Rowan Hoban, Director of Wild Rumpus who have designed the festival, explains why @chesterzoo is the perfect place for The Lanterns to be showcased. @JMUJournalism pic.twitter.com/Pl2ReAeF32

— Nadia Breen (@nadiabreen1) 23 November 2018
"We love working here with the animals because of the affection and love families have for the place. We are able to help people create special memories and want families to have one to one interaction with all of the characters and interactive puppets. The animals at the zoo have come to life in a different way.
"Each of the worlds have a very different look and feel them."
Director of Operations at Chester Zoo, Dominic Strange, believes the event has been going from strength to strength since it began six years ago.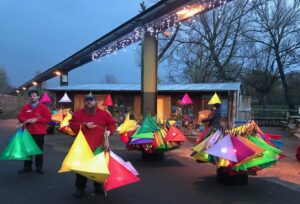 He told JMU Journalism: "Wild Rumpus create so many magical worlds and we are thrilled to work with them. It is something unique as children's faces light up when they see all of the characters walking along the route. It is not just simply animal-inspired lighting and lanterns as there are many surprises along the way.
"We have had Christmas events before but they were all very similar to generic Father Christmas meet and greets. We wanted to have a total revamp in order to make the best use of our grounds."
The festival sold out at the weekend when Santa made his appearance, but the event runs every day until December 23rd.
Twitter: Nadia Breen
The first of the 9 worlds that has been created for The Lanterns. @chesterzoo #GardenOfDelight @JMUJournalism pic.twitter.com/ITZv64ccXB

— Nadia Breen (@nadiabreen1) 23 November 2018
Moonlit Meadow at the Lanterns. @chesterzoo @JMUJournalism pic.twitter.com/3Hp8PW0IfB

— Nadia Breen (@nadiabreen1) 23 November 2018