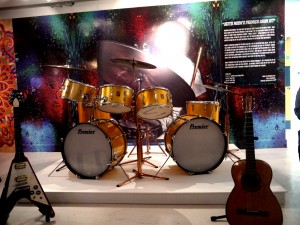 English rock band The Zombies opened the first GRAMMY Museum Exhibition in the UK at The Beatles Story earlier this week.
To celebrate the official opening of 'The British Invasion' exhibition the 1960's rock band gave an exclusive performance with an hour-long set for guests on at the Mersey Ferry terminal.
Their songs included their own hits such as 'She's Not There' and 'Time of the Season' as well as a cover of the Motown classic 'What Becomes of the Broken Hearted.'
Prior to the performance, The Zombies vocalist Colin Blunstone, told JMU Journalism: "The British public don't realise what a big impact the British invasion had on America, it's a huge cultural development.
"I wasn't aware at the time, I was only 19, I had just discovered beer and women and so I wasn't interested in cultural invasions, I've thought back on it and I definitely didn't know that we were a part of a cultural revolution."
The exhibition is the first demonstration of what the British invasion looked like from an American point of view.
Curated by GRAMMY museum executive director Bob Santelli, the exhibition will run for two years with displays of over 80 never seen before artefact's including The Supremes' costumes and one of few remaining 12-piece drum kits belonging to The Who drummer, Keith Moon.
Santelli said: "It were the British bands such as The Zombies and many others that invaded America in 1964 with The Beatles. The idea of the exhibit is to show how that invasion impacted American music and American culture and then ultimately the course of rock 'n' roll."