Liverpool kick-started its Halloween celebrations early this year with the third annual 'Zombie Walk' around the city centre on Sunday to raise money and awareness for British military veterans.
The charity event was created in 2013 by John O'Brien of 'The Overlord of Doom', as he thought the idea of 'the walking dead' helping 'the walking wounded' would attract horror fans and others to raise awareness for a good cause.
Last year's Liverpool Zombie Walk successfully brought in £1,100 within two hours of doing laps around Church Street and Williamson Square and collecting money from a pub crawl and this year organisers are hopeful that the final total will be along similar lines.
The military charity, Help for Heroes, supports ex-soldiers and their families who have suffered losses, disfigurements, and mental health issues, such as PTSD [Post-traumatic Stress Disorder].
YouTube: JMU Journalism
The Zombie Walk itself is highly popular across the world and other big cities in the UK.
Mr O'Brien, 38, told JMU Journalism: "I would like to get it to the standard where it matches other cities. It's massive in Birmingham, about 300 people or more participate every year but that's been done for over a decade now, so it will be a slow, gradual process.
"Whether it's three or 300, we're going to have a grin anyway."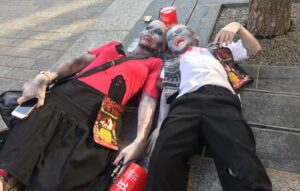 The walk manages to attract families with children 'dying' to dress up as zombies whilst entertaining passers-by to join the next walking dead squad, or to simply donate money.
Participant Simon Scott, 37, of the Wirral, told JMU Journalism: "My son Zac has taken interest in zombies recently and when we saw the Zombie Walk two years ago, we were really impressed by the make-up and special effects they've done."
An animation graduate and lover of Halloween, 26-year-old Ian Hunter of Liverpool, said: "I love getting people's reactions. It's just different. We're showing everyone that you can do anything to raise money for charity and it makes it more rewarding in a way."