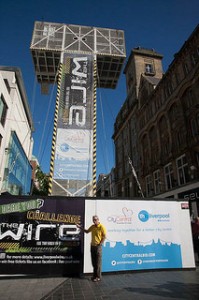 Liverpool's 800ft zip-wire could be back in 2015, due to popular demand during a recent trial run.
The 40mph daredevil challenge attracted Merseyside thrill-seekers and helped raise over £100,000 for good causes.
The attraction was set up in early August and was due to stay for a month but due to its popularity its stay was extended for another two weeks.
Now, city centre bosses and event organisers from the Mellors Group are coming together to discuss bringing the zip wire back next year.
Bill Addy, chief executive of the city centre Business Improvement District, told JMU Journalism: "We always thought it would be well received but were surprised by the numbers and the positive reaction.
"This is only an option for next year if it comes back – and it's a big if – it will only be on a temporary basis and not permanent, probably just a month."
Over 10,000 people rode the zip-wire over Liverpool city centre, jumping from a 115ft tower before speeding along the 800ft cable.
Hundreds of the daredevils who took part in the challenge did so for charity.
Mr Addy said: "People riding the zip wire for charities was not something we put into our planning, but we are delighted that so many charities benefited. It proves what we all know about the people of Liverpool's generosity."
Liverpool's zip-wire has been an inspiration for other cities who are now looking to organise their own similar attractions.
Mr Addy said: "I like to think that Liverpool leads in so many ways and I am very happy for us to provide further inspiration. Liverpool is a can-do place and the Liverpool Business Improvement District company like to push the boundaries."