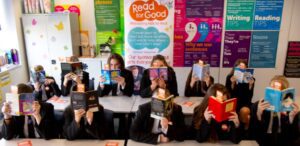 Schoolchildren across Merseyside are reading for fun as part of the citywide initiative, 'Readathon 2018'.
The Readathon began on November 5th and will finish on the 16th. Around 25,000 children will take part in the two-week celebration, which sees children sponsored to read anything they like, from comics to classics.
The event is being organised by the Liverpool Learning Partnership and the charity, Read for Good, which has been holding its Readathon since 1984.
The money raised from the event is used for school libraries, and by charities to fund their work in Liverpool, including Read for Good's mobile bookcase and a resident storyteller at Alder Hey Children's Hospital. Last year's first ever Liverpool Readathon raised an impressive £16,722.
Annie Smith, External Relations Manager at Read for Good, told JMU Journalism: "We have our hospital programme run in all the UK's major children's hospitals. It was created because we recognised there was a gap in children's hospitals to access to brand new books and storytelling at a time and place where a little distraction goes a long way."
YouTube: Rebecca Thomas
Explaining why the Readathon was the perfect way to raise money, Annie said: "We knew that children love the idea of reading to help other children get books. It encourages reluctant readers to give reading a go.
"The Liverpool schools really embrace the Readathon, from hot chocolate sessions in libraries to people making cakes. It really is so impressive how creative schools are in firing up their kids to get reading."
Today's activities included a session at Liverpool Central Library with Sarah McIntyre, who is an illustrator, writer and a patron for Read for Good. Sarah read her book 'The New Neighbours' to six schools from across Liverpool, and encouraged them to interact and get creative in activities.