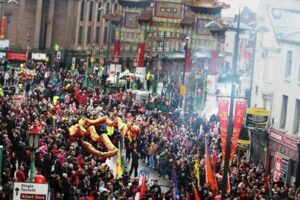 The people of Liverpool are invited to take part in a weekend of extravagant and fun events as the city's Chinese community celebrate the Year of the Snake.
Lasting 15 days, Chinese New Year is the longest and most important festival of all Chinese traditional holidays, with the dates changing each year in accordance with the Lunisolar calendar.
Families will gather together this weekend to exchange presents, have parties, dress up and indulge themselves in traditional Chinese cuisine.
On Sunday 10th February, the always-spectacular parade will take place in Chinatown from 11.30am as a lion, unicorn and dragon dance will make its way through the crowds, who can enjoy the selection of food and gifts available at the Chinese market.
Chinese New Year's Day will say goodbye to the Year of the Dragon, and welcome the Year of the Snake, the sixth of the 12 signs in the Chinese Zodiac.
Whilst Dragon years are characterized as dramatic, full of lavish and unpredictable events, astrology predicts the year of the Snake will be filled with a new sense of peace.
Ancient Chinese wisdom says that snakes are a sign of wisdom and people born in the year of the Snake are the most intuitive, hardworking and ambitious in everything they do.
Despite not being great communicators, Chinese wisdom says they make great scientists, sociologists and painters.
However, the Snakes can also be characterised as being sly because of their tendency to find gaps in the system in order to get what they want.
For most living at home, Chinese New Year is the most meaningful time of the year, spending quality time with family and friends.
However, for those living thousands of miles away working or studying in another country, the festival can be quite tough.
Qi Jiang is studying MA International Journalism at Liverpool John Moores University. She told JMU Journalism: "I am feeling very homesick at the minute because I am missing the celebrations."
Attempting to bring a little bit of China to Liverpool, she and her friends a have bought festive gold and red decorations for their house and are planning to get together on Sunday to have a party and make a variety of Chinese foods just like she would do at home with her family.
Another student, Cai Jiajia, said that she was actually looking forward to the celebrations as her brother is flying to Liverpool from China. Cai said that she will take him and the rest of her friends to Chinatown to see the dancing dragon and the fun fair.
This weekend the city's streets and museums will be turned into a dancing, singing and performing extravaganza as activities are planned to take place on Saturday and Sunday.
On Saturday a special Tai Chi demonstration will be held on Nelson Street between 12.30pm and 3pm.
Alternatively, there is the option to pop over to Williamson Square and watch Arts Academy, China Pearl's performance, a warm up and introduction for the main event on Sunday.