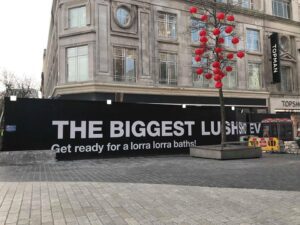 The biggest Lush store in the world is opening in Liverpool next month, with March 15th revealed as the date.
Based on three floors, the new outlet in Church Street will also include a hair salon, spa and a florist.
The salon is an extension of their hair care range with its own brand products on offer. The retailer currently has a smaller shop with a spa facility but within the new premises there will be more treatment rooms and party space for guests. It will also be selling flowers, which are included within the products.
Michelle Wilson, currently a Lush supervisor and head of recruitment, told JMU Journalism: "This Whitechapel store is closing down when we open up a three-storey trade floor on Church Street, and it is going to be the largest Lush store in the world.
YouTube: Chloe Smith
"This is a whole new concept for Lush, moving into a new department store. Lush started as a small soap and bath bomb shop which invented a lot of different products and now it is moving into offering more services and better customer experiences.
"The aim is to offer an ethical product and to make sure that Lush stays a part of the high street-brand by making the experience of shopping interactive and not just online."
All current staff who are working at Lush will be transferred over to the new store, and new workers have all been hired ready for when it opens, this March.