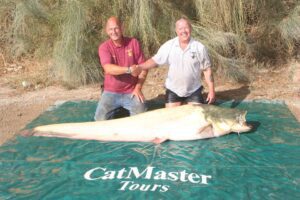 A Merseyside man holds the world record for catching the heaviest albino catfish after an epic struggle to land the beast.
Fishing fanatic Bernie Campbell caught the gigantic 206lb fish, measuring 8ft in length, in the River Ebro on a trip to Spain.
The previous record was 194lb.
Bernie, from Oxton, Wirral, was extremely pleased with his catch, which almost pulled him into the water several times. He told JMU Journalism: "I feel fantastic for catching it. I've been going out to Spain for seven years and there's about a one in a thousand chance of catching an albino."
Bernie, who is sponsored by AK Angling in Moreton, added that his main quest was to catch an albino: "It's what I'm there for. I said I'd be very happy with a 40 pound albino so to come away with a 206lb fish was fantastic."
Mr Campbell is not a newcomer to records; he had a previous record for the most catfish caught with CatMaster Tours in one day – which was a whopping 26.
The River Ebro is famous for its monster-size catfish, but the yellow albino variety are rarer, with only around 10 caught a year there.