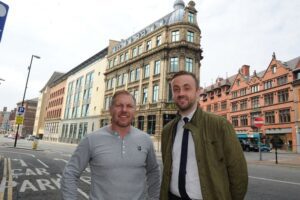 Building work officially began yesterday on a new £20m hotel which honours former Liverpool manager Bill Shankly.
The hotel is based on Victoria Street and is a joint venture between developers Signature Living and the remaining members of the Shankly family.
The development will completely transform former Liverpool City Council offices at Millennium House, and, as part of the deal, will renovate the Lifestyles Gym that is part of the site below.
The 83-bedroom hotel will be a tribute to legendary Liverpool boss Shankly, who took Liverpool from a second division team to a major force in English and European football.
All of the memorabilia from the Shankly era is owned by Chris Shankly-Carline, the grandson of Shankly, who loans some of the collection to Liverpool Football Club. However, the majority of his artefacts will go on display in the hotel for the paying customers to enjoy and admire.
Lawrence Kenwright, the owner of Signature Living, which rents apartments all over Liverpool city centre as well as 30 James Street, home to the Titanic Hotel, explained his vision for the development.
He told JMU Journalism: "The aim is to open on August 15th 2015. We have five floors, plus we're putting another floor on the roof that will be a 16,000sq top glass box, which will have a conference centre, wedding hall, restaurant, rooftop garden and a pool."

The development will create more than 200 jobs and Mr Kenwright believes it will be a fitting tribute to the Scotsman, who managed Liverpool for over 15 years.
He said: "It's reflective in design to the character and strength that Bill had, rather than an LFC-based hotel with scarves and football kits, its not about that. It's about it being a five star, strong sturdy hotel that's quite robust in its appearance."
The tight deadline to get the hotel open is a necessary risk, Mr Kenwright explained.
"It's exciting and scary at the same time because we have a tough date to get this open," he said. "We're in pretty severe times at the moment and we've got to make sure every penny counts, so the shorter the lead up time to opening a hotel, the smaller the cost is, that's why we put ourselves under this incredible pressure and timescale."