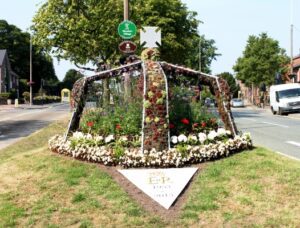 Woolton has won a national gardening honour at the 2013 Britain in Bloom awards.
The Royal Horticultural Society (RHS) recognised the village as the winners of the Urban Community category in Cleethorpes last Saturday.
More than 1,000 communities from across the UK entered the competition.
An RHS judge said: "What was evident from the start and throughout is that community is at the heart of what Woolton in Bloom are about, but it is so much more than that, with excellence in horticulture standards everywhere."
The judge added: "This is an entry of enormous merit, fully warranting the only gold awarded in the category."
This is the third time the village has received a gong at the Britain in Bloom awards having previously won the Silver Gilt award in 2006 and the Gold award in the Large Village category in 2010.
Kerry Peacock, Vice Chair of Woolton in Bloom & Horticultural Manager, also received a community champion award. She told the BBC: "We are all absolutely thrilled. To be named national champions is stunning."
Woolton, where John Lennon and Paul McCartney first met in 1957, managed to win the Urban Community award despite this being the first time it had been entered in the category.
Peacock said: "I was really upset when we were moved into the Urban Communities by the RHS because we were part of Liverpool. I didn't think for a minute we would win because we were up against places like London Bridge which we were told has a budget of £850,000."
She added: "The aim of Woolton in Bloom has always been to be the best. Volunteers work tirelessly to make it a great place for everyone who lives, works or visits Woolton."
Peacock has worked on the floral displays in the village for the last 11 years and is described by the RHS as "truly a champion of the community".