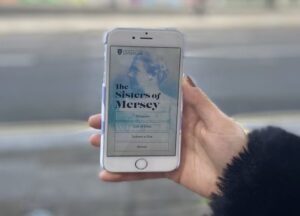 The University of Liverpool has developed an app in a bid to keep alive the legacy of women's history in the city.
The app marks the history of women's experiences and contributions to Liverpool and aims to work with the community to provide information and inspiration from the local figures who have shaped history.
The platform features sections on crime, charity, politics and popular culture. Each section will locate females of historical importance around Merseyside.
Dr Samantha Caslin, the developer of the app, told JMU Journalism: "I wanted to do this because this is a topic which needs more of a platform. When we walk around city centres, often the streets are named after important male figures and we see statues of important male figures, so this is a way of balancing it out."
Alongside this, the app provides an interactive experience with text and audio descriptions about the featured subjects.
YouTube: Olivia Wagg
The app features remarkable women such as Agness Jones – a pioneer in the field of nursing – and April Ashley, a Trans Lives' activist.
Dr Caslin added: "The software isn't just about telling really positive stories, but it's also about uncovering the richness of that history as well, meaning that sometimes the app takes you into deeper territory, for example Margaret Walber – the last woman to be hanged In Liverpool."
Users will also have the ability to add their own material to the app by using the 'submit a site' option. Here users will be able to include their own findings for other people to learn and locate.
Liverpool university undergraduate research students and the Computing Services Mobile Development team were all part of the development.
The software also displays a wider range of findings from local archives and museums to add additional information for the user.
The app is available to download on the App Store and Google Play.