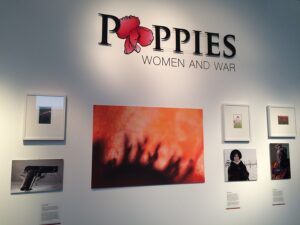 A free exhibition is being held in the Museum of Liverpool featuring striking portraits of women whose lives have been affected by conflict, from World War I to the present day.
The 'Women and War' exhibit, which runs until June 5th, aims to allow women who've been effected by war to tell their stories, as well as teach visitors about the impact of conflict.
Photographer Lee Karen Stow is renowned for her compelling images and has incorporated striking portraits of women into the exhibition to demonstrate the consequences of conflict.
Women and War aims to project the voice of these untold stories in the hope they will educate the people of Liverpool that there is a lot more to be heard and learnt.
Stow said: "The exhibition means a lot to me, once I started it was too hard to walk away from. My next step is to travel to America to work with female Vietnam War veterans. There are over 1,000 women that have served but have been forgotten about.
"I began this project myself, working with inspirational women from 2007, documenting their lives. It can be quite challenging for the women I was interviewing, especially with holocaust survivors. It isn't easy asking these women to revisit a painful memory, especially with a camera in their face. It can be very daunting."
The exhibition has already shown signs of success with visitors taking to social media to express what they have learnt. As well as half a million viewers visiting the Liverpool exhibition since the opening.
Stow said: "I am absolutely amazed, and really pleased. The exhibition allows you to get lost in such a small place, with harrowing stories and images."
The Women and War exhibition has largely been influenced by her Stow's mother's childhood during the Blitz of World II. Living in Hull, she experienced four years of bombing.
The photographer added: "I had no idea of my mother's story. It wasn't until just before she passed away I found out. She hid under the kitchen table, to finally walk out and discover the other homes and buildings just destroyed."
All ages and genders are encouraged by the Museum of Liverpool to visit and experience first-hand the Women and War exhibition. However it is advised to be mindful with young children due to some disturbing images.