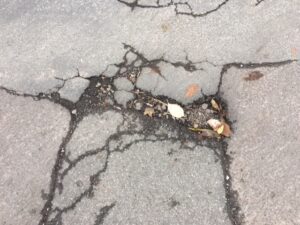 Wirral Council is rolling out the tarmac after receiving a £1.4m cash boost from the UK Government to help fix the worst roads in the borough, but a pothole campaigner claims it is not enough.
The council says it wants the money to be spent fairly across the area, so that all the roads with bad potholes can be fixed properly.
However, campaigner Mark Morrell – who is known as 'Mr Pothole' –  told JMU Journalism: "Over the last 10 years there have been over 400 cyclists either killed or seriously injured as a result of potholes, and in some cases they were ones that councillors knew about before the incidents happened.
"There is actually no national training course or qualification needed for repairing potholes, so the people repairing the roads are not actually trained.
"With the amount of potholes in Wirral, I think £1.4 million is nowhere near enough, as across the whole of the country it is estimated that we would need around £30bn to fix the roads," the 58-year-old from Brackley said.
YouTube: Sky News
https://www.youtube.com/watch?v=ta0BaiozNDc
The Department of Transport revealed that next year the North West would get more than £139 million from the Local Highways Maintenance Integrated Transport Block Fund to help repair local roads.
Each year, council inspectors check every road in Wirral in a timed schedule. However, the roads can develop potholes very fast, which can then be missed by inspectors.
The council is now working through a backlog of work, and the repairs are prioritised by how much of a risk they are thought to be to road users and pedestrians. To report a pothole problem in Wirral, click here.
JMU Journalism contacted Wirral Council for comment but we did not receive a response.
YouTube: Chloe Smith