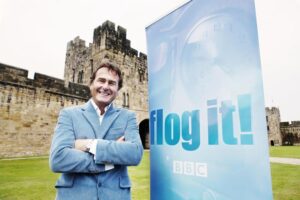 The Wirral will welcome the popular BBC One Show,' Flog it', and its host Paul Martin to Merseyside this weekend.
Wallasey Town Hall will be hosting the Flog It valuation day on Saturday 8th March, offering a chance for members of the public to bring up to three unwanted or treasured antiques they might be interested in selling.
Series Producer Louise Hibbins said: "Paul Martin and the entire Flog It team are really pleased to be bringing the show to Wallasey; we have never been to the Wirral Peninsula before and are very much looking forward to our visit.
"If you've ever wondered how much your boot sale bargains or clutter in the loft might be worth, now is your chance to find out."
At the valuation day members of the public will have their items priced after they decide with the expert whether to put it up for auction a few weeks later. Everyone who goes along to the event will receive a free valuation – even if their antiques are not chosen to go up for auction.
Mayor of Wirral, Councillor David Mitchell, said: "We are very much looking forward to welcoming the team from Flog It to our beautiful Town Hall on the Mersey waterfront. I am a big fan of the programme, and I am sure it will receive a warm Wirral welcome from local residents, who have a great interest in history and heritage."
Paul Martin will be joined by Flog It on-screen experts Anita Manning, Phillip Serrell and Nick Davies.
The event will take place at Wallasey Town Hall in Brighton Street, Wallasey between 9.30am and 4pm. The items selected at the valuation day will go under the hammer at Adam Patridge Auctioneers, 18 Jordan Street, Liverpool, on Wednesday 2nd April.