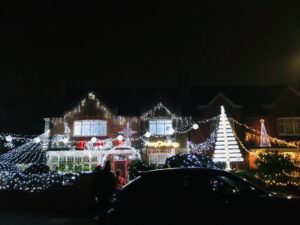 Christmas has come early in Wirral, with one Oxton street wasting no time getting in the festive spirit to raise money for charity.
Every year the Templemore Road residents come together to showcase a dazzling Christmas light display. This year is no exception with onlookers flocking to see the extravagant exhibition, only this time it is all for a good cause.
Resident Ian Crombie came up with the idea for his street to take part in the Wirral Christmas Lights Trail this year that encourages houses across the Wirral to light up to help raise funds for Wirral St John's Hospice.
He told JMU Journalism: "We decided as a street to bring a little bit of light into the gloom of this year with Covid-19.
"I have personally got around 35,000 lights illuminated. We've been doing it around six years but this year is a big crescendo and we've gone all out to put extra lights up.
"If I count back all the electrical sockets cross connected across my home, there are a total of 74 sets of lights plugged in. It's not doing my electric bill any good at all!"
Take a look at the incredible Templemore Road display in our video>>>
Homes across Wirral are invited to enter the Christmas Lights Trail and will be added to a map for the public to locate which houses are shining bright for the campaign.
Mr Crombie said: "If you make a donation to the charity they will add your postcode to the Christmas Trail's map and people can wander around the Wirral, knowing where each house is and enjoy the different Christmas displays.
"We're hoping that with all the footfall and the traffic that people will give generously."
To enter you can decorate the outside of your home with Christmas cheer between the 12 – 27 December and donate £5 to Wirral Hospice St John's.
The public will be able to vote for their favourite house from December 12. The winning three houses will receive a fabulous Christmas prize. 
You can find out how to enter, vote and donate to the Wirral Christmas Lights Trail HERE.
*Featured image Kim Reynolds