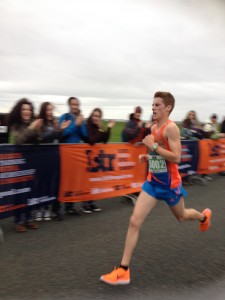 Thousands of runners braved the cold winds this weekend to take part in the Wirral 10k and half marathon.
The tough conditions didn't stop over 2,000 competitors from running the races, starting in Birkenhead Park and ending in New Brighton on Sunday. The race, which started at 9.30am, welcomed a range of people running for a charity, just for the challenge or for personal reasons.
Jack Altkins, 18, was the winner of the Wirral 10k with a time of 36 minutes and 27 seconds.
He said: "It was great fun but I found it very tough. I have been day-to-day training with my coach so a big thank-you goes to David Edwards for being so inspiring."
The fastest woman to cross the finish line on Coastal Drive was Kirstie Longley, 36, completing the course in 37 minutes and nine seconds.
She said: "It was absolutely fantastic but very windy, very tough, you just had to work through it."
Organised by BTR Liverpool, the races attracted entrants from all over Europe, including Belgium, Spain, Denmark and Norway.
Race Director, Alan Rothwell, admits that this year has had an excellent turnout and the event has been pitched to run annually.
He said: "With the cancellation of the Liverpool Marathon this year at least we have been able to retain the Wirral side, holding a half marathon for the first time."
The winner of the Wirral half marathon, Martin Swensson, praised the support received from his team-mates after finishing in one hour, 13 minutes and 11 seconds. Jenny Clague was the fastest woman at one hour, 24 minutes and 23 seconds.
For the majority of the competitors it was a case of running for their chosen charities or in remembrance of their families.
Jim Thompson, 49, who has been a factory worker for 20 years, ran for Sue Ryder, the hospice who looked after his mother before she passed away. Raising money for the Urology Foundation for bladder cancer, Vanessa Kelly, 43, took part in her first marathon to remember her father who battled with bladder cancer.
The day ended in the early afternoon with a presentation of trophies for first, second and third places of the Wirral 10k and half marathon.