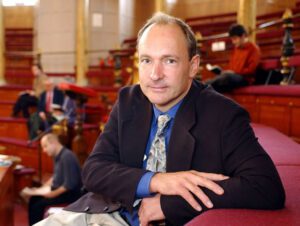 His invention revolutionised so many ways in which we live our lives, but the man who gave us the World Wide Web is far from being a household name.
The web, for most people, has become an integral part of everyday existence, but JMU Journalism has gathered compelling evidence to suggest that the genius behind its creation, Sir Tim Berners-Lee, is an unheralded and practically unknown figure amongst the public.
We asked 451 people on the streets of Liverpool: "Do you know who invented the web?", and an overwhelming 92% of those polled could not name Sir Tim Berners-Lee. Only 37 (8%) knew the identity of the London-born computer scientist, with 43 guessing the web was the work of either Microsoft or its co-founder Bill Gates, and 11 believing credit was due to the late Steve Jobs, of Apple fame.
Despite being voted one of the 20th Century's most influential people by Time Magazine, Sir Tim, the Oxford graduate who changed the world, is still largely anonymous, and not a member of the 'computer geek' billionaire club, as many might expect.
Berners-Lee's decision not to patent or copyright his invention – essentially giving it to humanity to use for free – raised many eyebrows when this fact was revealed to the public. A consistent theme which emerged during JMU Journalism's research was the surprise expressed at such a gesture.
Linda Booth, who lives in Liverpool, said: "I'm shocked I don't know. I make a living from the web and I don't even know who created it. I can't believe he gave it away for free."
Josh Gardner, from Preston, said: "I think it's peculiar that he didn't want any copyright for his invention, considering how incredible the invention is. He could have eventually earned millions at least, but perhaps he thought it was some kind of gift to the world." Others were more unkind, calling Berners-Lee "stupid" and "an idiot".
Liverpudlian Benjamin Wilson, one of the few people who did know his identity, argued that Sir Tim – who now lives in Boston, America – could not have envisaged the enormous impact his invention would have. He said: "I doubt back then he knew how big it would be, or how much money it could make."
The World Wide Web is the platform on which we enjoy today's phenomena such as YouTube, Google, Facebook, and Twitter. It enables users to access documents, pictures, videos etc by using a web browser – such as Internet Explorer or Safari – over an existing linked computer system known as the internet, which was developed in the 1960s by several American scientists and the US government.
Although the web and the internet are terms which are commonly used interchangeably, the two are separate but related entities, though the distinctions are perhaps better explained by others.
When Berners-Lee suggested the original idea of the web to his boss at Geneva-based particle physics laboratory CERN in 1989, he received just tentative encouragement, with feedback stating: "Vague, but exciting." Undeterred, Sir Tim persevered, and CERN launched the first ever website on August 6th, 1991.
He surely could not have known it at the time, but Berners-Lee had altered the course of human history.
Sir Tim, now 56, once said of his own creation: "Most people have several groups of friends but the web allows you to be part of a group that is not geographically close. You can talk to somebody in a tiny village on the other side of the world, where they have a different culture, and find you have something in common. I think it's a good thing. It promotes human understanding, it encourages world peace."
Additional reporting by: Alexandra Allen; Patrick Arnold; Ryan Aujla; Bethany Avison; Jessica Ball; Leanne Bates; Laura Beddows; Lewis Bell; Jack Birch; Abigail Bramhall; Gemma Brezinski; Poppy Burns; Claire Bynoe; Lucia Campolucci-Bordi; Liberty Chrismas; Stephen Corbett; Lauren Cordelle; Elen Crean; Karl Cryer; Christopher Cunningham; Alisha Daya; Michael Deburca; Chantal Dickinson; Niall Dudley; Aidan Dunlop; Bill Evans; Daniel Gibson; Kerryleigh Gough; Aimee Hamilton; Helen Healy; Nadine Higham; Jack Horrocks; Michael Houghton; Hollie Howitt; Ida Husoy; Aimee Jones; Lisa Jones; Lisa Kerr; Chelsie Kirman; Damian Leonard; Jennifer Letford; Jessica MacDonald; Jack Maguire; Jade Masri; Tito May; Kirsty McColgan; Nathan McRae; Ryan McElroy; Paul McIntyre; Sarah Mee; Harriet Midgley; Hazel Miller; Loren Mitchell; Georgina Moore; Duncan Moores; Hannah Newman-Jones; Callum Newton; Nathan Pearce; Ian Pemberton; Lauren Percy; Julianna Petkovich; Nathan Potter; Shannyn Quinn; Sarah Raynard; Claire Reid; Rachael Roberts; James Routledge; Nicholas Seddon; William Shaw; Gemma Sherlock; James Truesdale; Jessica Watters; Joshua Weale; Bethany Wells; & Victoria Wilson-Parry.