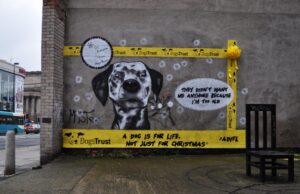 The Dogs Trust has teamed up with renowned London graffiti artists as part of its new Christmas campaign which came to Liverpool this week.
A 10ft mural of a Dalmatian dog with a speech bubble saying "they didn't want me anymore because I'm too old" has appeared on London Road warning Liverpool residents against impulsively buying a dog around the festive period.
Last week marked the peak for online searches for puppies presumably to give as gifts for Christmas.
Dogs Trust is trying to combat people purchasing dogs and then returning them in the New Year when they realise they're unable to care for their new pet or even shockingly, according to the charity, because "he looked different after we walked him in the rain."
The UK's leading dogs charity has now decided to take its iconic 'A dog is for life, not just for Christmas' slogan onto the streets with the help of London-based sibling duo Idiom who have created 12 images which will appear up and down the country, each one uniquely suited for its location.
Although the Dog's Trust has seen a rise in rehoming this year due to raised awareness after the now infamous deliberate fire at the Manchester branch, the numbers are still stacked against the organisation thanks to the significant increase in irresponsible internet pet buying and selling.
Giles Webber, who is in charge of rehoming all pets, told JMU Journalism: "With more and more puppies flooding the Christmas market, all available at the click of a button, it is more essential than ever that our iconic message 'A Dog is For Life, Not Just For Christmas' is ingrained in people's minds.
"We hope that this visually striking campaign will encourage people to think twice about the commitment of dog ownership before impulsively buying a puppy. Our aim is to ensure that the artwork will be the only abandoned dogs the British public will see on their streets this Christmas period."