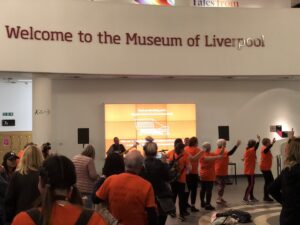 Nearly 200 people took to the streets of Liverpool to fight cancer and raise money for 'Maggie's Merseyside' centre.
The Culture Crawl, which raises funds for the cancer facility based in Clatterbridge Hospital, gave participants the chance to see the city in a new light as they walked 10km with exclusive night-time access to some of town's most iconic venues.
This year's visits included trips to Liverpool Cathedral and Victoria Museum and Gallery, finishing up at the Museum of Liverpool, where participants celebrated the event with a dance.
Maggie's Merseyside prides itself on being a place that offers free emotional and practical support for people living with cancer, and also for their loved ones.
Kathy Wright, Centre Head at Maggie's Merseyside, told JMU Journalism: "The Culture Crawl is one of our biggest fundraising events in the calendar, which helps to keep our doors open to people affected by cancer.
Twitter: Annie Williams
Walkers celebrating their successful 10km charity walk at Maggie's Culture Crawl of Friday at Museum of Liverpool #MaggiesCultureCrawl #MaggiesClatterbridge @JMUJournalism pic.twitter.com/w27ZjUmnEN

— Annie Williams (@AnnieWLJMU) October 1, 2018
"Some walked in celebration and others walked in memory of loved ones, making it an extra special evening.
"This year it was amazing to see the volunteers painting the town orange in the Maggie's branded t-shirts and getting involved in an evening of fun, culture and entertainment in an amazing city."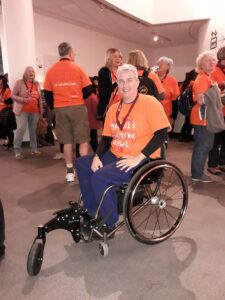 Anna Jackson, an ambassador for Maggie's at Clatterbridge Hospital in Wirral, first got involved with the charity when her partner, Karen Illston, was diagnosed with cancer in 2017.
Miss Jackson told JMU Journalism: "We visited Maggie's on the first day that we visited the hospital. It is an amazing place, there is a staff team and an amazing team of volunteers who are always on hand to make you a cuppa or listen and give you advice."
Karen received three months of treatment at Clatterbridge, as well as ongoing emotional support for herself and Anna. Miss Jackson said: "Cancer is not something you ever want to enter your life, but we have met some amazing people on our journey and made some really special friends.
"It really makes you reevaluate your life and remember how important people are. I love Karen so much and it has been horrendous to see what she has had to go through."
All of the money raised through Friday's Culture Crawl will help Maggie's Merseyside continue to provide professional support to those that need it and also help towards opening a new centre.