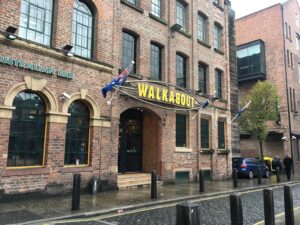 One of the most popular bars in Liverpool's Concert Square will close its doors by going out with a bang on New Year's Eve.
Walkabout, the multi-storey bar and diner, will have one final farewell party at the very end of this month, as it will say goodbye to to 2017 and the city – for now at least.
The venue, renowned for its 'Mad Monday' event, may return in a new location, but for now workers are preparing for what they bill as an "end of an era" send-off to remember on December 31st.
Walkabout duty manager, Kirk Young, told JMU Journalism: "We are expecting a really busy night on New Year's Eve. It will be one-in-one-out on the night, so I would advise people to get there early.
"This is not the end of Walkabout in Liverpool, as we are expecting to move out of Concert Square sometime in the near future."
YouTube: lozzamac01
The Australian-themed bar is located in the middle of student hotbeds 'Level' and 'McCooley's, as well as competing with other popular clubs, such as Soho, Modo, Baa bar and Fusion.
Hannah Twohig, 23, of Salford, told JMU Journalism: "I have lived in Liverpool for five years now and it's a shame to see Walkabout shutting its doors. I am always at Concert Square whether I'm working or out for a few drink with my mates.
The closure of Walkabout Concert Square comes as a new bar, Coyote Ugly announced it is opening nearby on Wednesday December 6th.
The New York chain is famous for its dancing barmaids, and is the first of its kind to open in England, following after a public vote.