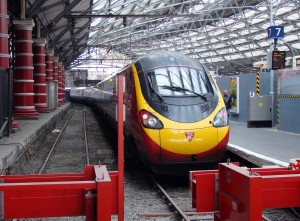 Virgin Rail has lost the franchise which serves the Liverpool Lime Street to London Euston high speed train link, after the new 13-year contract was awarded to rivals FirstGroup.
Many thousands of students,  tourists and workers commuting to and from Liverpool will be long familiar with using Virgin's Pendolino tilting trains, which are set to be replaced by FirstGroup's service on the West Coast Mainline as early as December this year.
Virgin boss Sir Richard Branson, who was the star guest at the Global Entrepreneurship Congress in Liverpool earlier this year, said: "It's extremely disappointing for Virgin, and for our staff that have worked so hard to transform this railway over the last 15 years.
"The West Coast Mainline has been transformed from a public liability into a valuable asset for the UK, worth many billions of pounds."
Stagecoach, which owns 49% of Virgin Rail, said it had lost the franchise because FirstGroup had bid "significantly higher premium payments" to the Department for Transport.
FirstGroup is said to have bid approximately £7billion to run the line, which is thought to be roughly £1billion more than Virgin.
Rail minister Theresa Villiers said: "This new franchise will deliver big improvements for passengers, with more seats and plans for more services."
Liverpool Riverside MP Louise Ellman, the Labour chairman of the Commons transport select committee, told the Liverpool Echo: "Virgin has provided a good service, but there has been speculation, for some time, that they may lose the contract. The question is now is whether that will be at the expense of passengers? It's vitally important that they still receive a good and reliable service."
FirstGroup has pledged to "offer substantial improvements in the quality and frequency of services". Chief Executive Tim O'Toole said: "Our bid also delivers value for taxpayers by returning premiums to the government underpinned by sustainable growth in passenger numbers and revenues from the utilisation of significant available capacity."