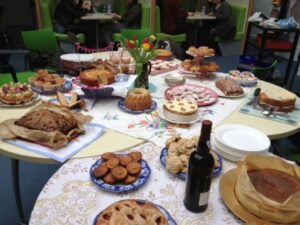 LJMU lecturers hosted a bake off with a twist on Friday in an effort to raise money for Comic Relief.
Dr Helen Rogers, a lecturer in English and Dr Lucinda Matthews-Jones who teaches History at the university, collaborated to present a Victorian tea party and bake off based in the Student Zone of the Hope Street campus.
Students and staff of the faculty of Humanities and Social Sciences attended and provided cakes for the event.
In keeping with the theme, entrants were encouraged to bake cakes using Victorian recipes. This meant that they needed to cook without electrical equipment and make sure that they followed measurements accurately.
Dr Lucinda Matthews–Jones, 29, originally from Cambridge, said of the event: "Helen Rogers and I edit our own blog called the Journal of Victorian Culture. We have had a digital bake off on the site, with people writing posts for us and then we decided that we wanted to have a more practical experience and do it with the students as well as seeing Victorian cooking at its fullest. It's been really great fun".
Stephen Stewart, 20, from Belfast emphasised the benefit of such a fundraiser for charity.
He said: "Doing fun things like a cake sale is a good way to raise money. Spend a few pounds and you can get as much cake as you want. You can't really complain!"
The cakes were judged by students and staff who rated their top three from what they had sampled. Michelle Keeley, 21 from Liverpool, won third prize of a tea towel and wooden spoon for her kiwi Victoria sponge cake.
She said: "It was quite hard work making the cake because we couldn't use any electronic equipment, we just had to mix by hand and follow a strict recipe. Doing it this way, you got a sense of how hard it was in those times for Victorian women to make cakes."
Overall, the event was a surprising success as it managed to raise £119.25 for Comic Relief.