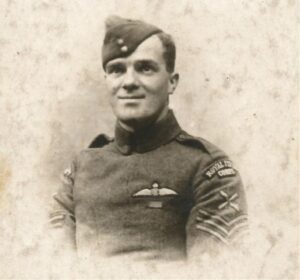 A statue to honour a World War I hero has been given the funding go-ahead.
Thomas Mottershead, a WWI fighter pilot from Widnes, will be honoured in bronze thanks to a generous grant from community action fund organisation, WREN.
The £46,200 grant by the funding organisation and money raised by the local appeal committee will be used to design a lifesize bronze statue of Sgt Mottershead.
The flight sergeant was awarded a posthumous Victoria Cross for bravery while flying at Ypres in January 1917.
Councillor Rob Polhill for Halton Borough Council told JMU Journalism: "The Sgt. Thomas Mottershead Statue Appeal Committee was set up to raise the profile of servicemen and women from the borough, and to honour everyone who 'joined up' in the Great War.
"The statue will be a mark of gratitude from the local community for the courage and bravery that servicemen and women have displayed in support of their nation.
"The appeal committee has been responsible for the fundraising so far, through donations that have been given from people both locally and all over the world.  All of the public support received to date has clearly indicated a desire for the statue and the importance for what it represents."
YouTube: ITV Granada Reports
A commemorative stone, which was recently unveiled to mark 100 years since the VC was awarded, will be located close to the new memorial statue.
The statue will be the second of its kind locally, with the first commemorating Private 'Todger' Jones VC, which installed in Runcorn's Memorial Gardens in 2014.
Halton Borough Council has been working closely over the past few months with the Sergeant Thomas Mottershead Appeal Committee.
A member of the committee, Tony Miller, told JMU Journalism: "The feeling about getting the grant, I can't really explain, it's fantastic but at the same time [there's] relief.
"After months of waiting, and everything depending on the grant, the pressure was – and still is – immense. One pressure goes and is replaced by another. I could say it's like studying for an exam, sitting it, then the wait, have you passed or not? After the long wait you get your result, you've passed, you're ecstatic, feel like telling the world, but at the same time it's a weight off your shoulders."
Plans are already underway and the statue's location in Victoria Park will provide a memorial that recognises the contribution made by members of the local community. The statue is set to be completed by April 1st 2018.
Facebook: Thomas Mottershead Appeal
https://www.facebook.com/SgtMottershead/posts/934191180049903