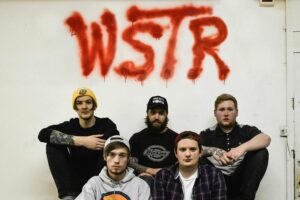 The newest pop punk quintet on the Liverpool scene, Wstr, have bagged themselves a tour with award-winning band Neck Deep.
Doing pretty well what they themselves term "a waste of space", the boys from Liverpool signed to No Sleep records will be heading off on their first European tour next March, beginning in France and ending up in Switzerland.
Making waves in the pop-punk community as the new kids on the block, the band is made up of lead vocalist Sammy Clifford, guitarists Danny Swift and Kieren Alder, with Alex Tobijanski playing bass and Kieran McVeigh on drums.
The band, which is not even a year old, will soon to start working on their first album, with inspiration from Sum 41 and New Found Glory. They have already been played several times on Radio 1 and Kerrang TV.
Lead singer Sammy Clifford told JMU Journalism: "It still hasn't sunk in yet. We feel very lucky to have been given this opportunity and feel we have a lot to prove.
"Neck Deep are good friends and we're big fans so it's a dream come true. We like the way they have gone from growing so fast yet remain so humble."
Neck Deep have taken the punk rock and pop scene by storm since being signed by Hopeless records in 2013, winning Kerrang's award for 'Best British newcomer' in 2014 and supporting Blink 182 at the 02 Academy in London the same year.
Currently on tour in the US, lead singer of Neck Deep, Ben Barlow told JMU Journalism: "The EU tour with Wstr is going to be a blast, we couldn't be more stoked.
"Since WSTR got their band up and running I've been eager to get on the road with them, and what better way than a Euro road trip, hitting up some of my favourite places in the world. It's bound to be a very funny and very messy tour, I can't wait."
Sammy, who says the band is still riding the honeymoon wave, gets his writing inspiration from past and present experiences – whether it be ex-girlfriends or nightmare jobs.
He added: "Every part of my past will be somewhere in our songs."
For now, the Wstr guys are touring the UK with punk rock band, Light You Up.