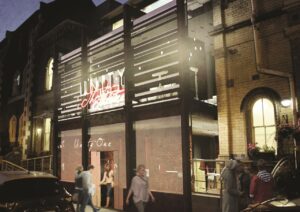 Liverpool's Unity Theatre is hoping for a revamp that will bring the venue into the 21st Century.
Its application for redevelopment funding for its home on Hope Place has been successful and the Unity has been awarded £435,000 towards the £750,000 project.
In addition to the investment from the Arts Council, contributions from Liverpool City Council and Unity's own reserves, the remaining fundraising target is £125,000.
Unity aims to raise £75,000 through trust and foundation applications and the rest through individual giving.
Executive Director, Sue Williams, said: "We have 12 months to raise the further £50,000 needed to carry out all our vital work. In this time if every visitor donated just £1, this could be achieved."
Unity's redevelopment is the first major work to be carried out since its last renovation in 1998.
The small theatre with big ambitions is working with K2 architects and has developed a proposal which will relocate the main entrance and link the building to Hope Place Street.
Plans include opening out the foyer and bar spaces, improved soundproofing between two performance spaces, and a new second floor for office spaces. It also promises an easier and simpler building to navigate, improved visitor facilities, more programme choice, and a better overall visitor experience.
Unity Artistic Director and CEO Matthew Linley told JMU Journalism: "Unity is based on what used to be an old synagogue, right next door to the current LJMU drama department which is used by the synagogue school. The new capital project will open up many more opportunities for the two organisations to work together collaboratively, which is really exciting.
"We'll be building on solid foundations, with an already close working relationship between the two organisations. In many ways you could say the Unity capital project will help to metaphorically open the door between these two linked buildings even wider."
Supporters who wish to donate can do so through Unity's official website when booking tickets online, in person or over the phone.