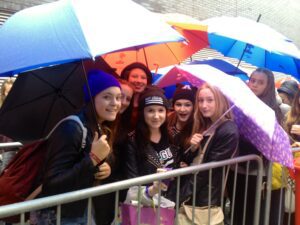 X Factor stars Union J brought a crowd of fans to Liverpool One today as their followers braved the rain to see them at a book signing.
The band were at WHSmith Liverpool One to meet their fans and sign copies of their new book, Our Story: Union J 100% Official.
Hundreds of screaming fans lined the streets to hopefully catch a glimpse of their idols.
Jamiee Lee from Crosby told JMU Journalism: "I'm in the middle of the queue and it's amazing, everyone's excited and some are crying."
Lisa Alcock from Kirkby had been waiting since 10:30am for the band. She told JMU Journalism: "I can't believe I'm going to meet Union J, I've loved them since the X Factor but I'm freezing."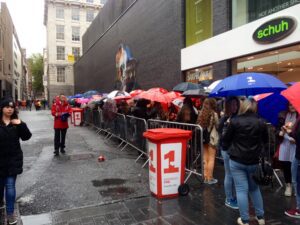 The fans, the majority being teenage girls, were chanting "Union J" and singing a number of their songs whilst they waited in the miserable weather and Liverpool One provided them with umbrellas to help keep them dry.
The band has played at sold-out arenas around the country on the X Factor tour and signed a record deal with Song Music, and recorded their first single which was released in June 2013.
The band's book covers their story from being average guys dreaming of performing on the X Factor stage, making music and having thousands of fans screaming their names, to having that dream become a reality.